A Meal with a View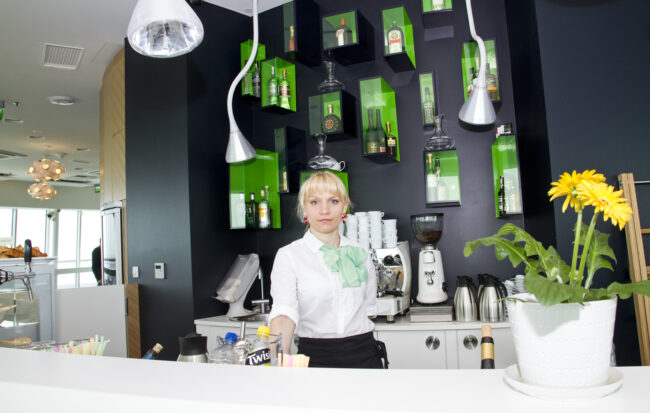 A Meal with a View
Diners can enjoy a beautiful view over the Muuga forest, Tallinn's Old Town in the distance, and the Baltic Sea. Apparently on a clear night you might even be able to see the distant lights of Helsinki.
Priit Toomits is the chef de cuisine at the 22nd floor restaurant of the TV Tower. He has worked at some of Tallinn's best restaurants, and in 1998 won the title of Estonian Chef of the Year. His latest endeavour, is a brasserie and serves a fusion of world cuisines. Local Estonian ingredients are used to create classic French and Italian dishes with Asian influences.
The décor is clean and modern, and the view, well that just speaks for itself. Dining at 170 meters above the ground on a clear evening is spectacular.
The food certainly lives up to Toomits' reputation. Every dish that was served was colourful and represented his vision. The beef carpaccio was served with baby rocket, caramelised pistachios, parmesan foam and drizzled with a little bit of olive oil (11.20€).The toasted nuts were a fantastic addition and the short burst of sweetness they added to the plate really recreated this classic dish. The tuna tataki (12.30€) was an interesting fusion of Japanese and Estonian cuisine. The sliced tuna was marinated in soy and spices and served with lettuce, mirin, and beetroot cream, the Estonian twist.
For a main course, try the beef tenderloin (26€) with Savoy potatoes, onion quiche, ginger chilli cabbage and red wine black truffle sauce. You can't go wrong. The lamb (17.50€), cooked sous vide was tender and melted in your mouth. It was served with polenta, seasonal vegetables and a red wine and rosemary sauce. Dollops of green pea foam spotted the plate and added a burst of freshness. This dish was truly a dish of spring.
The tower stands 314 meters tall and was first opened in 1980 to broadcast the sailing events of the Moscow Olympics. Its construction took five years. The TV tower quickly became a popular destination for family outings. In 1991, the tower was an important structure in the events leading up to the restoration of Estonia's independence. Its defence was crucial when Soviet troops tried to seize it on August 20, 1991.
Location
Tallinn TV Tower, Kloostrimetsa tee, 58A
TEXT: KRISTINA LUPP, PHOTOS: ANDREI CHERTKOV
To learn more about this and similar topics