À la carte fast food
F.Burger surprises with its concept.
Text Susanna Poikela
Photos Susanna Poikela, Katerina Borohhina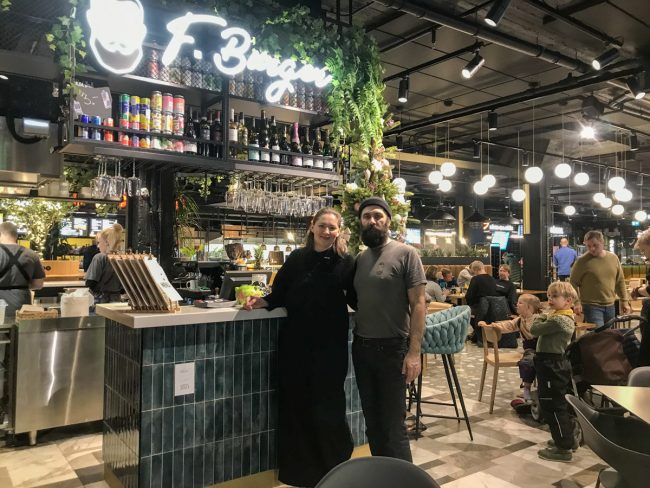 Eva Unt and Dmitri Fomenko opened F.Burger first in Lasnamäe and then in the Viru Keskus Food Hall.
F.Burger is an interesting new "dirty burger" eatery in the Viru Keskus Food hall. The owners and couple, Dmitri Fomenko and Eva Unt, boldly experiment with the boundaries of the traditional hamburger and succeed in it excellently.
"We make the dishes on site from start to finish, steaks, sauces and brioche rolls. No parts of the dishes are bought ready-made, as is done in many other hamburger places," says Eva Unt.
Fomenko and Unt have both worked for years in the restaurant industry. That's also where the couple first met. "We became friends and then we became a family," laughs the straightforward Dmitri.

So how did F.Burger get its start? "At some point, there comes a moment when working in someone else's restaurant no longer gives you enough and you come up with your own ideas for food. Both of us have always worked in fine-dining restaurants. For example, I was the head chef of restaurant Ö for three years, and Eva worked in the ranks of restaurant Enzo. We wanted to create something simpler together, but in the end we ended up offering hamburgers with a fine dining concept", explains Dmitri Fomenko with a smile.
The Estonian restaurant guide the White Guide also added the restaurant to its lists. "The recommended level is the most interesting level of the White Guide listing. At this level, you usually don't find restaurants in their traditional sense, but places to eat that enrich the restaurant world with personal concepts. Without these places, Estonia's food menu would be much more boring", explained Harri Hanson, the founder of the White Guide.


Instead of the traditional beef patty, customers can also choose a shrimp burger, a salmon burger or a portobello burger. The list also includes burgers with avocados as buns or potato patties. The juicy "dirty burger" can be enjoyed either with a soft drink or good wine. The menu also includes soups and salads as well as a children's menu.
F.Burger, Viru keskus, Viru väljak 4-6, Tallinn.

To learn more about this and similar topicsburger burger Tallinn Dirty Burger F. Burger F. Burger Lasnamäe F. Burger Viru Keskus Viru Keskus Food Hall