A commemorative plaque for Estonia's first concrete building was unveiled in Narva
Text Mark Taylor
Photo Erik Riikoja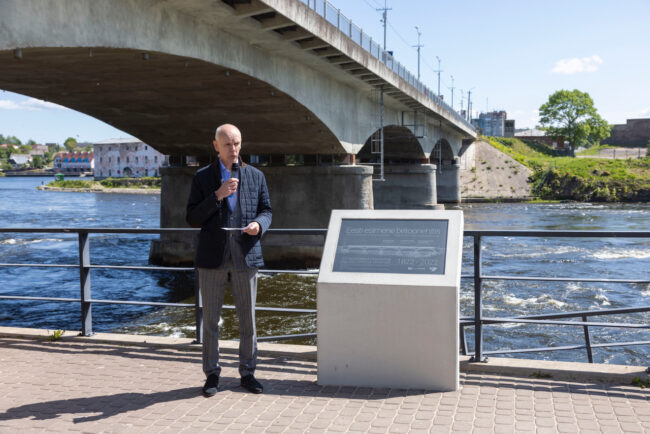 In Narva, on the banks of the river, a commemorative plaque was opened yesterday to the first concrete building in Estonia – the old Narva bridge – the construction of which began 200 years ago. The commemorative plaque was unveiled by the mayor of Narva, Katri Raik, and the chairman of the Estonian Concrete Association, Imre Leetma.
In 1822, the French military engineer Colonel Antoine Raucourt de Charleville created Estonia's first cement from the clay-rich limestone around Narva. The concrete made from it was used to pour the underwater part of the pillars of the Narva bridge. The above-water part of the highway bridge between Narva-Ivangorod being built with wood.
200 years have now passed since the beginning of cement and concrete production in Estonia and Russia. Historian Uno Trumm has written extensively about Estonia's first concrete building.
"The introduction of cement and concrete 200 years ago opened a new era in the development of human society," said Imre Leetma, chairman of the board of the Estonian Concrete Association. "Today we see that it is very difficult, if not impossible, to imagine modern society without concrete."
The original Emperor Nicholas I Bridge was demolished in 1959, giving way to the current Friendship Bridge. However, the remains of the bridge pillars of the old Narva bridge still protrude from the river. Just above them, 50 meters upstream from Sõprus Bridge, on the river promenade of Narva, a commemorative plaque dedicated to Estonia's first concrete building has been installed.
You can watch a short 1-minute video (in Estonian) about the history of the bridge and concrete in Estonia here.
To learn more about this and similar topicsConcrete Emperor Nicholas I Estonia First Concrete Building Estonia History Narva Narva Bridge Narva Promenade