3 ONIONS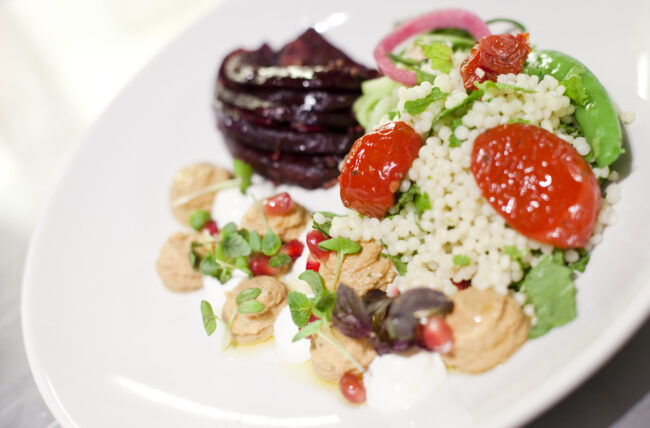 kolm sibulat, kohvik moon, tallinn, kalamaja, restaurant, fresh noodles, wine, casual dining
If you don't speak Estonian, you'll understand the name of this restaurant as soon as you walk in. Onions, and shapes that resemble onions are placed all over this tworoom restaurant. The open kitchen design is a new idea for this chefsommelier threesome. In Kohvik Moon, the other restaurant owned by this dynamic trio, the kitchen is located, as chef Roman says, "far away in the basement."
The menu at Kolm Sibulat is short, but covers all of the bases. Vegetarians will certainly be pleased with some great dishes, like roasted beetroot with pearl couscous, spicy hummus and yoghurt –a dish called Vegetarian Love. The menu could be called bistro, but there are some distinct Asian influences to the dishes, like cream of coconut soup with red lentils and Oriental spices, shell-baked scallops with chilli and ginger aioli, or Igor's favourite lamb stew served with vegetables, French beans and basmati rice. The stew comes garnished with heaps of fresh coriander.
The attraction of the place has to be the fresh house made noodles. The duck confit, chicken broth, poached egg, pickled vegetables and herb noodle bowl was a great balance of sweet and sour, and a filling dish on its own.
The new restaurant, Kolm Sibulat (Three Onions), named after the three owners is open for lunch and dinner, six days a week, and Sundays, 13.00-21.00. From the Old Town, it's about a ten minute walk.
Location
Kolm Sibulat
Telliskivi 2, Tallinn www.kolmsibulat.eu
TEXT: KRISTINA LUPP, PHOTOS: ANDREI CHERTKOV
To learn more about this and similar topics