Walking tour: Kassisaba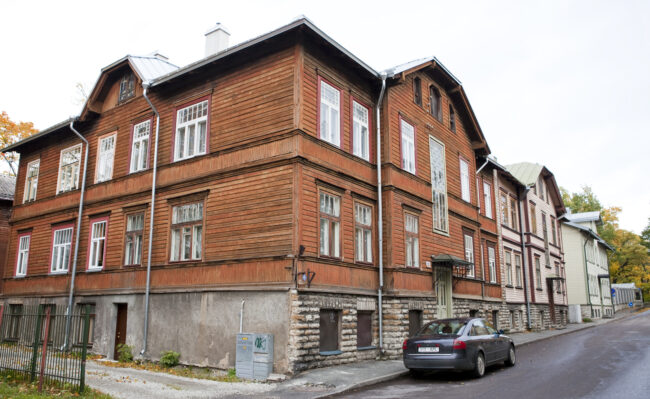 The Kassisaba suburb of Tallinn is like a small village in the city centre.
The smell of birch wafts through the air, somewhere a rooster crows. We are in the middle of Tallinn, but it feels like we are somewhere in the countryside.
Kassisaba (Cat's Tail) is a small, yet vivid part of the city, located close to the Old Town. You can easily get there by going down the hill from Toompea and crossing Toompuiestee.
The suburb's interesting name has puzzled people for years. In Old German, the road leading from the fortress was named Katzenschwanz (Katze means cat).
You can start the walking tour of Kassisaba at the top of Wismari Street near Falgi Park. The park is well kept and has many beautiful oaks and larches.
There is a large playground for children in the park with swings and things to climb on. During the Soviet period, the park was named Lastepark, or Children's Park.
Falgi Park got its name from the Toompea Guild Alderman Hans Heinrich Falc, who ordered the building of the park in 1857. The British Embassy is located at the edge of the park.
When visiting Kassisaba be sure to walk along the small streets and take in the interesting architecture of the area. Many of the old wooden houses have been renovated, but many remain dilapidated. Here and there you will also see some ultra modern contemporary architectural achievements.
The area's original architecture are the wooden houses, which have high limestone foundations. The houses have nice detailing, both around the windows and doors. Many of the old houses are protected, to preserve the valued milieu for generations to come.
The large yards bearing fruit trees are of extra value. If you dare peek into a yard, you will be surprised by what you see. In one yard, there were six old Mercedes!
You can stop for a coffee at the Kassisaba Café on Koidu Street. Marie Under, a well-known Estonian poet was born on that same street in the 1800s. Barack Obama quoted a few lines from one of her poems during his visit to Tallinn last autumn.
TEXT MIKKO VIRTA, PHOTOS ANDREI CHERTKOV
To learn more about this and similar topics