TOP 5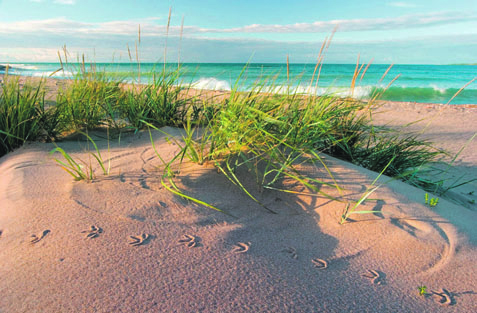 LIGHTHOUSES FOLK CULTURE NATURE KURESSAARE CELEBRATES 450 YEARS
01 FOLK CULTURE
Kihnu Island's culture is a UNESCO world heritage site. Elderly ladies driving motorcycles with sidecars, while wearing traditional folk clothing is a regular sight on Kihnu.
02 NATURE
Estonia's islands are home to many interesting bird, plant, and animal species. You will find wild boar and deer, majestic eagles, and different types of orchids. Bird watching can be done on every island, all year round, but their migration period is the most spectacular.
03 LIGHTHOUSES
Hiiumaa's main attraction is the Kõpu lighthouse, built at the beginning of the 16th century. This is one of the world's oldest working lighthouses. Kihnu, as well as some of the other islands have lighthouses that can be visited by tourists.
04 THATCHED ROOFS AND WINDMILLS
Thatched roof houses can be seen on Estonian islands. Koguva, on the island of Muhu is the best place to see these traditional farmhouses. This village has many thatched roof buildings, including a museum. The windmills in Angla village on Saaremaa, is the best place to see these traditional structures, as there are not many left in other places.
05 KURESSAARE CELEBRATES 450 YEARS
The main attraction of Saaremaa's capital is the Episcopal Castle. This medieval castle with a moat houses the stage of the summer opera festival. The castle is in excellent condition, and the inside houses a museum that is well worth a visit. The city of Kuressaare celebrates its 450th anniversary this year.
To learn more about this and similar topics