Southern Estonia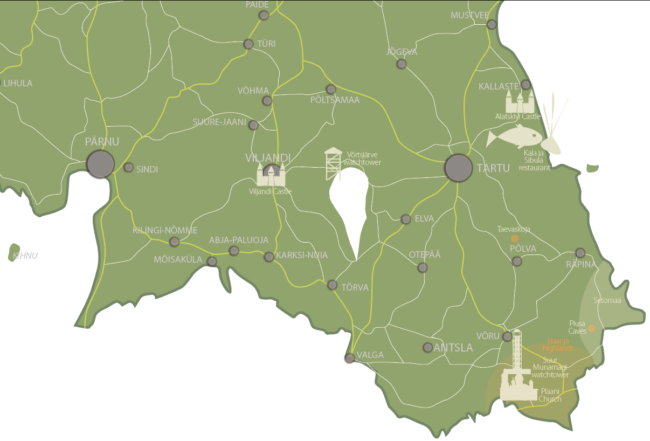 Rolling hills, fascinating culture, and beautiful lakes are only a few of the reasons to visit this area.
Southern Estonia is often overlooked as a travel destination, but this is too bad because there is so much to see and do that it's worth taking a few days to explore it. One thing you will notice about this area are the rolling hills, it's the only part of Estonia that's not flat. You'll have plenty of photo opportunities of stunning landscapes.
Otepää may be the winter capital of Estonia, but in summer it boasts plenty of activities like hiking and swimming. Visit the beautiful woodlands of Haanja and Karula National Park. Especially noteworthy are the Piusa Caves at Taevaskoja. Here you can take boat trip along the Ahja River.
Lake Peipsi stretches along Estonia's eastern border and is one of the country's largest lakes. It is a popular place for sunbathing, fishing, and boating. Drive the road along its western shore where you will come across plenty of stalls with smoked fish and local produce. The area is known for its onion-growing. Put together a picnic for yourself or eat at the Kala ja Sibula (fish and onion) restaurant in Kolkja where you can taste the traditional cuisine of the Russian "Old Believers".
Head even further south to one of the most fascinating regions of Estonia, the villages near Lake Pihkva, where you can can learn about the Setos and their culture. The Setos have kept their traditions alive, including their own language and clothing. They also have a strong polyphonic singing tradition.
If you are looking for more views, then head to one of the watchtowers in Southern Estonia including the Suur Munamägi watchtower and the watchtower overlooking Võrtsjärv. Some other places worth checking out are Alatskivi Castle, which dates back to the 17th century and the Russian Orthodox church in Plaani consecrated in honour of St. Nicholas in 1874.
TEXT KRISTINA LUPP, PHOTOS ANDREI CHERTKOV
To learn more about this and similar topics