Modern Classics Show Estonia is Better By Design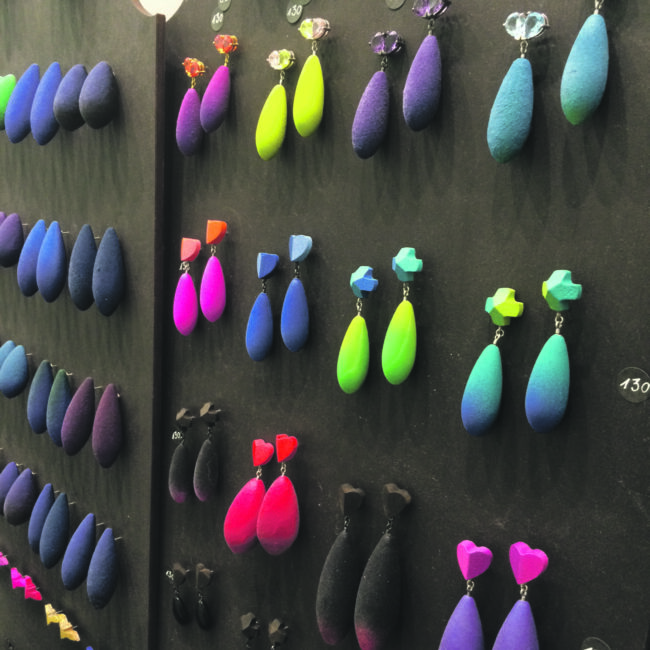 Tallinn Design Festival is the best time for seeing creative talent on display across the design spectrum in Estonia. Taking place in various venues in Tallinn, if you're looking for something original or eye-catching to buy, or you just want to be part of an emerging design scene that demands attention, you need to be involved between Monday 12th and Sunday 18th September, when the main programme takes place.
The Baltic Guide wanted to put the spotlight on two established Estonian designers who are displaying their work as part of Tallinn Design Festival, in order to demonstrate what people can look forward to when they step into the exhibitions. Jewellery designer Tanel Veenre is part of the Ministry of Fashion collective that has done so much to co-ordinate and publicise an Estonian design brand identity, while Kriss Eglite is the creative mind behind sought-after label New Vintage by Kriss.
Veenre's latest collection is not all he is involved in, as he explained. "Right now I'm preparing a bracelet to be launched during the Tallinn Design Design festival in the TALI shop, using black horn as the main material. Usually people relate my work with vivid colours, so it's a chance to show the darker side of me. Under this darkness is a warm and organic material which feels great next to tender wrist skin. These bracelets will join products from the Hippo Couture and Voodoo Paradise series."
"Besides that, I am an art jeweller, and my solo show in Tallinn Art Hall gallery is running until October 9th. This is more about mystery and meanings, deeper, unique, pieces. There's a huge amount of handiwork there, from the brighter side of being and also darkest alleys of our hearts. One of the special pieces will be exhibited in St Nicholas' church." Veenre is a teacher at the Estonian Academy of Arts, where he has lectured since 2012. "My students will show their accessories designs in the Helios cinema. It's always a pleasure to be see a creative spark in talented young people."
Veenre, who has been a professional jewellery designer for twenty years this year, believes Design Night Festival is of critical importance to Tallinn and Estonia, and to local creative talent. "It's really grown through the years – is started as a kind of design family event and has turned into something even my grandmother knows. I see it as a way for people to be inspired by the local scene and also as a great possibility for wider audiences to get a quick overview with minimum effort. Design has melded with society and it`s hard to avoid it – so you'd better know it well!"
New Vintage by Kriss supremo Eglite came up with her concept after becoming fascinated by sailing. "Our newest limited edition collection is inspired by the sea and sailing – it's called 'Équipe – Sail the world'. 10% of each purchase goes to an amazing women's sailing team, Équipe du Piloilleri III, who sailed in the Muhu Väina Regatt this year. This is an all-women's team with an average age of 24! These girls include an anthropologist, a coach, a product designer, an environmental specialist and two restorers! They have all trained with the legendary Estonian sailing coach Rein Ottoson, who not only taught them how to sail but also transmitted to them a love of the open water and adventure."
As far as hints and tips for the hungry traveller once visitors have seen the new designs across the city, Eglite and Veenre are both goldmines of information, and keen foodies. "I love good food and my tastes vary," Eglite said, "currently I am in a Japanese food phase and Tokumaru, although the location [in Solaris shopping centre] is nothing stunning, has definitely the best Japanese food in Tallinn. My favourite choice is the Chef's Salad with Salmon."
Veenre is happy to scour the entire city of Tallinn for the best tastes. "During summer Telliskivi hipsterland has the best vibes for sure – F-Hoone is a great classic there. But for autumn, I would go to von Krahli Aed, a great cozy spot in the Old Town with an ethical menu. I love La Bottega for Italian, particularly the stuffed squid, and Leib Resto or Neh for contemporary Nordic cuisine."
"If I had more money, I would eat more often at Art Priori or Noa for the Head Chef's Menu. They both have a great balance between simple pure tastes and creativity. And Kalambuur, a family-run place, has such a good spirit. Kohvik Klaus, next to the Estonian Design shop in Kalasadama, has lots of soul and spirit too."
You can see Tanel Veenre's new creations at TALI on Kotzebue 33 on Saturday 17th September, while New Vintage by Kriss hosts a satellite display in its own studio, on Pärnu Mnt 27, where Kriss and her staff will be glad to see you.
TEXT STUART GARLICK, PHOTOS STINA KASE, RIINA VAROL
To learn more about this and similar topics