Katariina Libe's award-winning play "Võrsed" starts run at Vanemuine Theatre in Tartu
Text Mark Taylor
Photo Pilleriin Kivisikk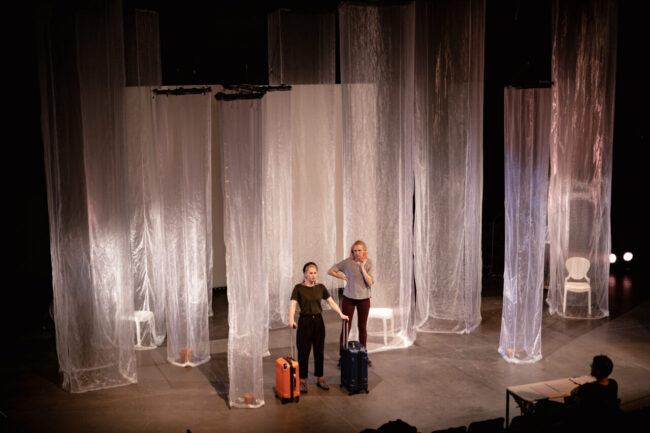 On October 22, Katariina Libe's play "Võrsed" will premiere at the Vanemuine Theatre in Tartu. It is the first Estonian play to deal with issues related to artificial insemination, among other things. According to director Tiit Palu, it is a painful story about how life has the last word. The play will run until May 2023.
The play won the first prize in the 2021 play competition of the Estonian Theatre Agency. It was there that the play caught the eye of Tiit Palu, the director of the Vanemuine Theatre, who was a member of the jury, who set himself the goal of finding a text from the competition that would be suitable for the theatre stage. "Võrsed" is a play about big changes in a person's life. Behind this is hope, opportunity and transience.
""Võrsed" (Sprouts in English) are the growth of a plant in the first year, a new beginning, life force. But it may not last," Palu reflects.
The main character of the play is 40-year-old Paula, played by Ragne Pekarev, who has reached a crisis in her life both at work and in her personal life. Her painful self-searching is reflected through several relationships, which, typical of the modern world, also include sexual and ethnic minority groups. The central theme of the play is the desire to have a child and childlessness.
"There is suffering in "Võrsed", but the end is bright. One of the themes in the play, for example, is the main character's wish to have a child. The doctors are of the opinion that she is too late with her wish," said Katariina Libe.
Although the premiere of the play on October 22 is sold out, tickets for the rest of the run – which will continue until May 2023 – can be purchased from the Piletimaailm ticketing portal here.
To learn more about this and similar topicsEstonian Theatre Agency Katariina Libe play Tartu Theatre Tiit Palu Vanemuine Theatre Võrsed