In search of the Estonian spy camera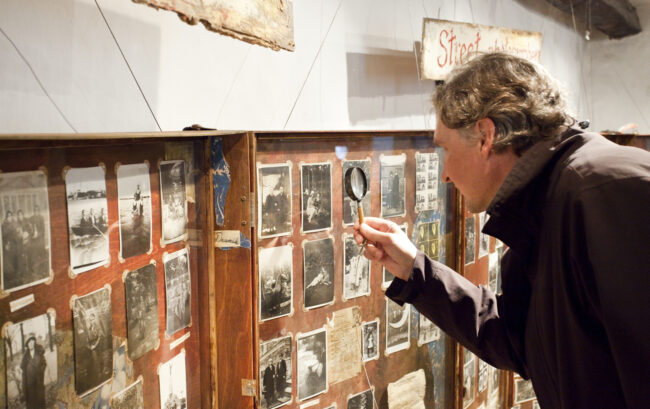 In search of the Estonian spy camera
Once you step inside the medieval building with its thick walls, small windows, and steep stairs you are far away from the street noise.
The museum gives an overview of Estonian photography from 1840 – 1940.
The oldest photos depict portraits. I can imagine how long the whole procedure must have taken! People not only prepared themselves mentally to go to the photographer, they also dressed impeccably. The hair is set; the looks are solemn, more morose than joyful, as is the atmosphere. Everybody is dignified. These portrait pictures were given to loved ones. We have certainly seen examples of these kinds of photos at our grandmother's house.
Once photography developed, background decorations were added, such as romantic landscapes. At one point, city portraits seem to have become popular background motifs.
No matter which pictures you focus on, they all bring the mind to a pleasant standstill and fill you with harmony.
The visitor also gets an idea of the development of cameras. Take a special look at the Minox camera, invented in Tallinn by the German- Latvian Walter Zapp in 1936. Production was started in 1938 in Riga because Zapp couldn't find support in Tallinn. After WWII the Minox was produced in West Germany and was often referred to as the spy camera thanks to its small size.
The Photo Museum is a branch of the Tallinn City Museum and is located in the same building as the former City Hall prison with a history dating back to the early 14th century.
Location
Raekoja tänav 4/6, Tallinn, behind the City Hall Tallinn Old Town
TEXT TOOMAS KÄBIN, PHOTO ANDREI CHERTKOV
To learn more about this and similar topics