Exciting Events in Estonia Between Now and the End of the Year
Text Mark Taylor
Photos Sergei Zjuganov, Mikko Virta, 
Andrei Chertkov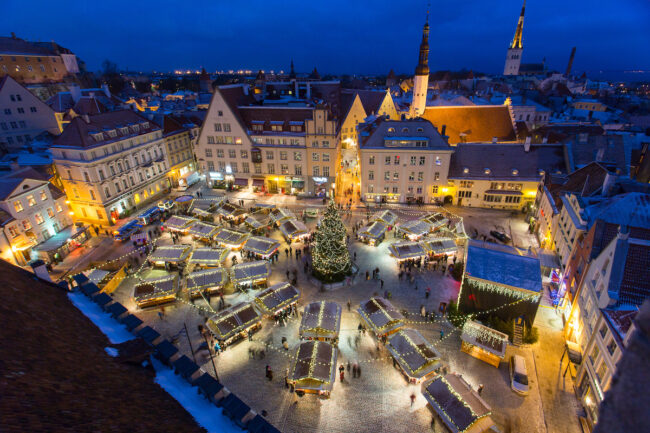 Tallinn Christmas Market was voted the Best in Europe in 2019.
03–19.11 Black Nights Film Festival (PÖFF)
Is not just the biggest film festival in Northern Europe, but one of just 15 worldwide with an A-category certification (this includes Cannes, Berlin, and Venice). This year, as usual, the festival will host countless premieres from filmmakers from around the world.
03–19.11 From Forest to Table – Southern Estonian Flavours
For two weeks, restaurants across Southern Estonia will serve up exciting set menus that all contain locally produced ingredients, including at least one fresh from the forest.

11–19.11 Pärnu Restaurant Week
Discover the rich, diverse, and high-quality gourmet scene of Pärnu at lower-than-normal prices. In total, 25 restaurants in the city will be offering special set menus as part of the restaurant week.
15–19.11 Jõhvi Ballet Festival
The five-day ballet festival at the Jõhvi Concert Hall will see performances from numerous Estonian ballet studios as well as international groups such as Pavlo Virsky Ukrainian National Folk Dance Ensemble and Mykola Lysenko Kharkiv National Academic Opera and Ballet Theater.
17–18.11 Robotex International Festival
Discover all there is to know about the latest developments in robotics and artificial intelligence at the annual event that has been held since 2001. The two days will be packed full of exciting robotics competitions and workshops.
22.11–26.11 Estonian Music Week
Each concert of the chamber music-focused festival is an exploration through the life and works of an Estonian composer, that is performed by local classical musicians.
01.12–07.01 Tallinn Christmas Market
Tallinn's fairytale and internationally award-winning Christmas market will return again this year. Explore the numerous stalls, warm yourself with a glass of mulled wine, listen to live music, and more.
02.12 Stebby Estonian Night Run
If you are looking to lose a few kilos before the end of the year, or keep that extra slice of Christmas pudding in check. The annual Stebby Estonian Night Run in Narva might just be what you're looking for. You can compete over 5 and 10 km distances.
03.12–07.01 Tartu Christmas City
On the first Sunday of Advent, a candle is lit in Tartu Town Hall Square which signifies the lighting of all the Christmas lights in the city and the opening of the annual Christmas city, which will include an ice rink, sleigh rides for children, and more.

09.12 Glögg cafés in Hiiumaa
In cozy cafes all over Hiiumaa, a steaming cup of glögg, pleasantly cinnamony pastries, spicy pumpkin soup, hot chocolate, and many other delicious treats await you!
09–10.12 Estonian National Museum Christmas Fair
High-quality handicrafts and foods will be available at the annual fair which takes place both inside and outside the museum building. There will also be musical performances and other surprises for visitors.
16–17.12 Christmas Village and Fair Pärnu
Santa and his helpers will be the special guests at the annual fair held in the city's Independence Square. You will also find countless stalls selling beautiful gifts, foods, and more. Not to mention, a full cultural programme full of performances.
22–26.12 Narva Christmas Village
Each day of the Christmas fair in the Northern yard of the castle will be dedicated to a different country and era. This is on top of a petting zoo, Christmas café, workshops, Santa, and more.
31.12. New Year's Eve Operetta Ball
At the Estonia National Opera, the theatre's soloists, chorus and dancers will perform timeless operetta melodies. At the buzzing party, you can dance to the accompaniment of the grand symphony orchestra and Estraadiorkester band.
Notable Concerts:
To learn more about this and similar topicsBlack Nights Film Festival Christmas Fair Christmas Village Pärnu Restaurant Week Robotex International Tallinn Christmas Market Tartu Christmas City