Climb, jump, play!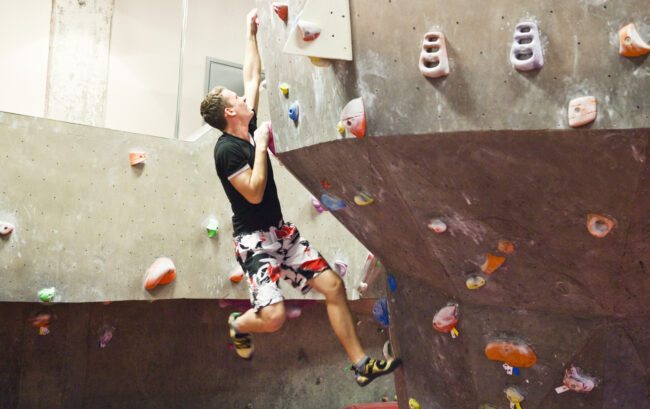 Extra energy can be expelled indoors too and there is no shortage of places in Tallinn that are fun for the whole family.
Sweating out adventure!
Muuv, an indoor activity centre is located in Viimsi keskus where you can look forward to an active day on trampolines, climbing nets, a foam pool, adventure trails, and swings. This adventure park is ideal for five to ten year olds.
Muuv, Viimsi Adventure Land. Sõpruse tee 15, Viimsi. From the centre take bus 1A. Entrance €5.
www.muuuv.ee

Young Driver's Dreamland
At the Children's Traffic Park, children can drive their own electric cars and learn the rules of the road. There are working traffic lights, signs, a petrol station and tunnel that make the experience as real life as possible. The centre is about 900 square metres and is located in Mustamäe. It's ideal for three to ten year olds.
Laste Liiklusmängukeskus, Kadaka tee 84A, Tallinn.  Price per minute €0,25.
www.liiklusmangukeskus.ee

Climbing without Ropes
Ronimisministeerium (Ministry of Climbing) is a climber's paradise located in the Zelluloos centre. It's great for both beginners and more experienced climbers. This climbing centre specialises in climbing without ropes. There is a soft floor and climbers must follow the rules. Those under 14 years old can only climb with their parents.
Ronimisministeerium, Tartu mnt 80E, Tallinn. Tickets €8, under 14 years €4.
www.ronimisministeerium.ee

Laser tag and adventures at great heights
Megazone is about 1000 square metres in size and the place to come for indoor entertainment. Try your hand at laser tag or an adventure trail. Laser tag takes place in a small town with music and smoke. Every participant gets a special vest and laser gun. Group bookings are also available. The adventure trail stands many metres above the ground. Those under 12 years old can only use the trails with an adult. You can try a Segway at Megazone, or a rally simulator.
Megazone, Tartu mnt. 80D, Tallinn. Lasertag on weekdays €5, weekends €6.  Indoor playground €15.
www.megazone.ee

A Jumper's Favourite Places
Skypark offers a 250 square metres area of trampolines where there are 23 different trampolines. In addition to the trampolines there is a climbing castle, foam pool, sumo wrestler costumes, games, and more. Those six and under can only use the trampolines under the supervision of a parent.
The other large trampoline centre is Zelluloos, with a 300 square metres area of trampolines, labyrinths, and more!
Skypark, Pärnu mnt. 139E, Tallinn. Day ticket €7.50.
www.skypark.ee

Zelluloos Trampoline Centre (Zelluloosi Batuudikeskus), Tartu mnt. 80D, Tallinn. Ticket €6.
www.zbatuudikeskus.ee


Click on the address to see the location.
TEXT MIKKO VIRA, PHOTOS ANDREI CHERTKOV
To learn more about this and similar topics