ARCHITECTURE AS A REFLECTION OF SOCIETY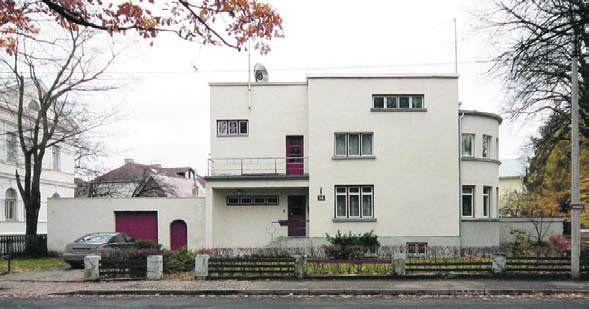 ARCHITECTURE AS A REFLECTION OF SOCIETYRingi
The first period of independence in Estonia was characterised by optimism and new ideals. The country was finding its feet from previous Russian and German rule and underwent a fast development phase. A nation with genuine Estonian character developed; one of its attributes was pride, however humbly, and the other, new-found self-confidence. These characteristics were also reflected in city planning and architecture. Estonian functionalism, which was influenced by contemporary European ideals became known by these ideals. Light was flowing into buildings. Simplicity prevailed. Cities and towns were given a sophisticated look.
Olev Siinmaa was one of the architects and is the father of modern day Pärnu, the summer capital of Estonia and a city with spa traditions dating back almost 200 years. Siinmaa's most famous building is the Beach Hotel (Ranna hotell) built in 1937 is considered as one of the best examples of not only Estonian functionalism, but some critics even claim that it is one of the best examples of functionalism in the world. During Soviet times the building decayed like everything else, but now The Beach Hotel has been renovated and is still one of the most popular places for summer activities, not only in Pärnu, but also in Estonia as a whole.
Next to the Beach Hotel is another of Siinmaa's masterpieces, the Beach Pavilion built in Rannahotell – The Beach Hotel was built in 1937. the early 1930s and its most distinguishing feature is its mushroom balcony.
Siinmaa also shaped the residential area between downtown Pärnu and the beach. Here you Rannahoone – The Beach Pavilion and its mushroom balcony. can find splendid villas from the 1930s that became ideal housing for the elite.
At the exhibition you can also learn about Siinmaa's furniture. The furniture is mainly designed for state institutions, such as the Presidential Palace and the Bank of Estonia. This design sharply contrasts with the light elements typical of his architecture. Elements of national symbols that seem heavy and out-dated reflect the political ideals of that period.
The Museum of Estonian Architecture also has exhibitions on permanent display. Visitors can learn about various periods of Estonian architectural history. In the early 1900s, plans were made to develop Tallinn into a city of large scale, as seen by such prominent architects as Eliel Saarinen of Finland. Another interesting display is devoted to wooden architecture in Estonia, such as the Kalamaja borough in Tallinn. You can also learn about the mania-grandiosa plans from Soviet times and the impact of the prevailing socialist ideology on city planning and building ideals during the post-war period until the late 1980s.
The Siinmaa exhibition Beach Town, Mushroom Balcony and Vodka Cabinet is open until March 18.
Location
Rotermanni Soolaladu, (Rotermann's Salt Storage) Ahtri 2, Tallinn
TEXT: TOOMAS KÄBIN, PHOTOS: MARTIN SIPLANE
To learn more about this and similar topics