Alternative Dining in Kalamaja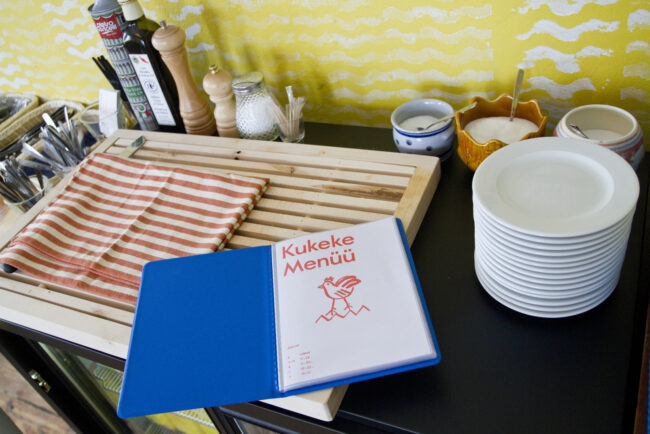 Kalamaja (Fish house) is a historic suburb filled with wooden houses and old factories. From the 14th century, Kalamaja served as Tallinn's main fishing port and was home to fishermen and fishmongers. When the railroad connected Tallinn with St. Petersburg in 1870, many factories opened.
Kalamaja has seen a revival over the last few years as artists and other bohemian types moved in for the large spaces and cheap rent. Restaurants and cafés began to open; Kalamaja is home to some of Tallinn's most interesting cafes and restaurants. What better way to be come acquainted with the city than to do as the locals do.
■ F-HOONE
F-hoone was one of the first restaurants to open in Kalamaja. Located in the Telliskivi complex, this large restaurant is built into an old factory and often houses events and special evenings. The menu offers simple dishes in large portions. Both vegetarians and meat eaters will be pleased. Prices are reasonable, almost half of those you find in the Old Town. Try one of the daily specials, which you can familiarise yourself with on Facebook.
■ KUKEKE
The two-level restaurant is located in an old railway depot. The interior is simple, keeping with the industrial look of the building. Daily specials and desserts are written in chalk behind the bar. We tried the Kukeke burger and we were not disappointed. Generously topped with marinated beetroot and onion, and served with a side of fries, you certainly will not go hungry. Telliskivi 57, Tallinn 
■ REVAL CAFÉ
Across the street, Tallinn's café chain Reval has opened their latest location. The menu offers full meals, and the display is filled with appetising cakes and pastries. Try the housemade dumplings or the chicken fillet with borscht salad and mint yogurt sauce. Telliskivi 60A, Tallinn 
■ KOHVIK SESOON
We just can't stop hearing enough great things about this addition to the Kalamaja restaurant scene. Daily lunch specials (soup, main, dessert) going for under 10€ fill you up without emptying your wallet. Menu items are also fairly priced, and portions are generous. The menu changes seasonally, hence the name. The winter menu features such hearty favourites as mustard flavoured pork, served with sour cabbage and lingonberry-pumpkin salad, and oven-baked Brie. And vegetarians will certainly enjoy the sweet potato and feta gratin. Niine 11, Tallinn 
■ POKAAL
Pokaal is a wine bar located in the Telliskivi complex, serving snacks and appetisers, and wine, of course! DJs can be heard spinning on the weekends. A great place to spend an evening! Telliskivi 60a, Tallinn
Kalamaja is not all hipsters and bistros; some of the original bars of the neighbourhood are still running, where you can meet interesting characters and enjoy cheap vodka.
■ KOLM LÕVI
When dodgy neighbourhoods undergo gentrification, some of the original businesses remain. Kolm Lõvi, or Three Lions is the perfect example of this. Their new Facebook page boasts "all sorts of alcohol, beer on tap, food, kara- oke, and striptease." Expect low prices, 80s and 90s music, and a great travel story to tell your friends back home. Kopli 14, Tallinn
■ PUDEL Also located in the Telliskivi complex, Pudel concentrates solely on bringing us some of the finest drinks from around the world.
■ LEILA BAAR
Leila Baar is certainly a man's bar, not only because I was the only woman in the place, but also because this bar is all about meat and beer. Do not let the exterior fool you; if you would like some With a beer list that puts most bars to shame every customer should be able to find at least one beer that will appeal to their tastes.really good and cheap sashlik (meat on a skewer), this is the place to come. Peer into the kitchen and watch the cook prepare everything while you wait. Their homemade dumplings were also delicious. Kopli 4, Tallinn 
■ PIRAMIDA
If cheap beer is not enough, then what about cheap beer and sauna? Piramida advertises as being one of the cheapest bars in Estonia, with all kinds of drinks, great food, including homemade dumplings (arguably the best food with beer or vodka), and swimming pool with a sauna, TV, and as any good Estonian bar would have, free Wi-Fi. Tööstuse 13, Tallinn
TEXT KRISTINA LUPP, PHOTOS: ANDREI CHERTKOV
To learn more about this and similar topics