ALPINE FUN IN ESTONIA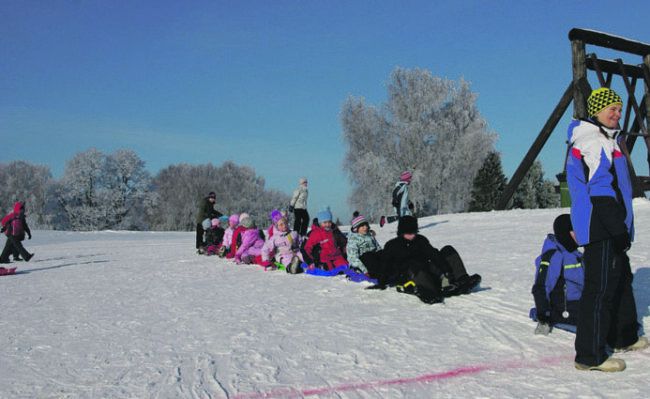 ALPINE FUN IN ESTONIA
Not quite the Alps, but Otepää offers snow, skiing and much more !
Try the downhill slopes at Kuutsemäe or Väike Munamägi, close to Estonia's winter sport Mecca, Otepää. Then, take a break to enjoy a beer along with some Austrian-inspired tunes. The atmosphere is reminiscent of some of the great after-ski parties in the Alps. And do it all again the next day.
Actually, try skiing on a day with limited visibility, then you won't see that there aren't any mountains around; there are just a few slopes, the longest run being some 500 meters. The race from the top, down the hill doesn't take very long, but for Estonians, it's great fun! They take pride in the fact that Estonia can boast having higher hills than Latvia and Lithuania!
The highest point of elevation in Estonia is only 317 meters. The slopes in Otepää are busy with skiers and snowboarders. Everyone is having fun both on and off the slopes!
Downhill skiing is not the only reason to visit the area. Otepää is known foremost for it's excellent cross-country skiing, with some 80 km of tracks, many of which are illuminated at night. And don't forget about the over 60 km of track used for the Worldloppet Tartu Marathon.
In addition to downhill and cross-country skiing, Otepää offers winter activity fanatics skijumping, ice skating, snow tubing and much more.
No equipment, no problem: everything is available for rent.
Upcoming Events:
March 11 – Kekkose Ski Race, named after the late Finnish president Urho Kekkonen
March 16-18 – Baltic Biathlon Cup
* May 13 – SEB Tartu Marathon
* May 27 – SEB Tartu Bicycle Marathon
How to get there?
Otepää is located about 250 km southeast of Tallinn and 60 km south of Tartu.
Daily flights operate from Helsinki and Tallinn to Tartu (50km). www.flybe.com/
Taxi from Tartu approx 35€.
Frequent bus services to/from Tartu and Tallinn. www.bussireisid.ee
Otepää Tourism Information
TEXT: TOOMAS KÄBIN, PHOTOS: OTEPÄÄ TOURISM INFORMATION CENTER.
To learn more about this and similar topics