Aegna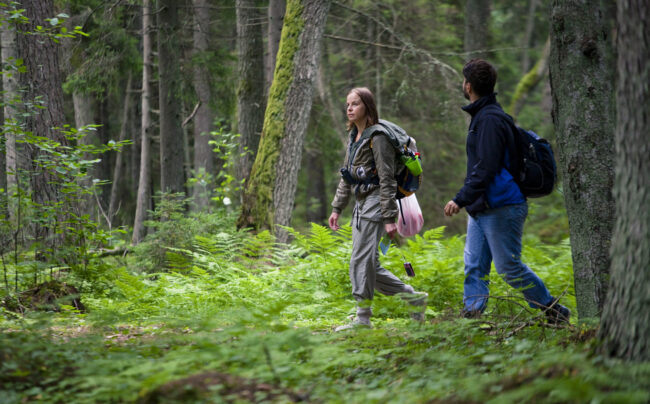 This nearby island fascinates the curious from the very first visit.
The island is located in the Bay of Tallinn and can be reached in two ways: with the small ship Vesta, which leaves from the Fish Market (Kalaturg), or by kayak from Rohuneeme. From there, the island is only one and a half kilometres. From Tallinn's Linnahall, the 14 km trip with the Vesta lasts about one hour. The boat starts running from mid-May and finishes for the year at the end of October. Naissaar is to the left of Aegna, and Kräsuli Island falls between Aegna and the mainland. On Aegna you will find yourself in another world.
Aegna amazes the visitor with its diverse nature. It continues to change and the forested grows year after year. If you have two to three hours, then why not walk around the island. Most just visit the island to admire the scenery.
The island's coastline stretches for about ten kilometres, including two different sandy beaches. Although the island is largely unspoiled, its human presence is visible by marked walking trails, picnic areas and information boards.
Aegna has three marked hiking trails, the longest of which is 6.5 km. Lemmiku Cape stretches along the eastern part of the island. At the neck of the cape, close to the old cemetery there are several boulders. If you take a walk around the island you will see a pair of swans, and if you're lucky, a white-tailed eagle. Because the island is also home to mosquitos and ticks, be sure to wear long-sleeved shirts and check carefully for ticks at the end of your hike. If you want to spend the night on the island, then keep in mind that camping is only allowed in designated areas.
Aegna has been home for many people. Many armies have also occupied it. You will find the ruins of the artillery batteries and garrisons built in 1914. There are currently two people that live year round on the island, who take care of its pristine forests. In summer, there are more inhabitants on the island and some of them even offer reasonably priced accommodation.
The island does not have a store, and food and drinks must be brought from the mainland.
A well with potable water can be found close to the port. Aegna is just the right size to visit for a day. Since I am one of those who have been going to Aegna for years, I recommend staying there for a longer time. This way, you can truly experience the island. The schedule for the Vesta boat can be found at the Kihnu Veeteed website:
TEXT LAURI LEIS, PHOTOS ANDREI CHERTKOV, KATRIN RÄTTE
To learn more about this and similar topics