A new exhibition delving into ancient mythology opens at Victoria Olt Gallery
Text Mark Taylor
Photo Victoria Olt Gallery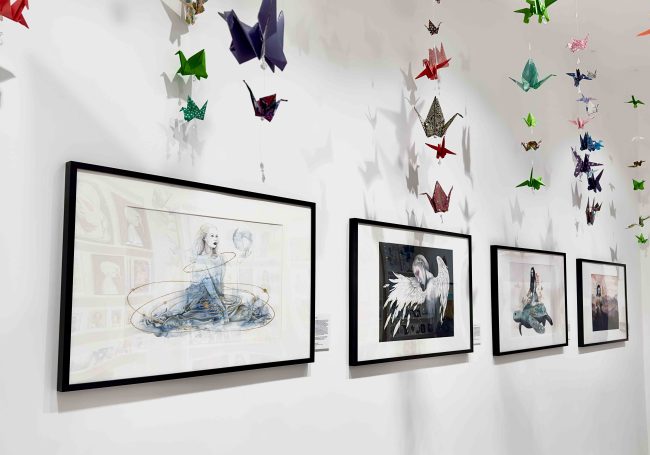 On Wednesday, January 4 at 6 pm, a new exhibition entitled "Lost Gods" will open at the Victoria Olt Gallery in Tallinn. The most eye-catching part of the exhibition is a 20 m2 installation of paper cranes. A reference to the Japanese legend, which states that a person who folds 1000 origami cranes is granted one wish, usually for a long life.
"The exhibition "Lost Gods" is another step in my quest for meaning, where, after finding no solace in current popular religion, I turn my gaze towards the past, to see what can be learned there," explains Victoria Olt. "And what I've found is that a lot of the issues our ancestors struggled with, are the same issues we have yet to resolve today. We still live at the whim of fate, however, you define it. But our ancestors have fascinating things to say about the human condition, and it would be wise to learn from them," she adds.
The exhibition portrays, mostly ancient Greek mythological characters, led by Aphrodite, the goddess of love, and her son Eros, whose infamous arrow turned against him when he intended to hit Psyche on the orders of his envious mother. Several myths involve acts of destruction, the vengeance of the gods against each other and against mortals, but also human grief and regret, and the belief that hope dies last, like in Pandora's Box.
Nordic mythology is represented at the exhibition by the Norns who rule time and fate, and Hel, the ruler of the underworld. Visitors will also get to know the mythical creatures of the indigenous peoples of North America as well as Egyptian and Mesopotamian myths related to the cycles of life, death and rebirth, as well as love and revenge. From more exotic regions come the fire goddess Pele from Hawaii and the sun goddess Amaterasu from Japan. Many of the myths depicted in the works of the exhibition are cautionary tales that still have meaning today.
The exhibition, which will be on display until February 26 can be visited free of charge from 11 am to 7 pm Monday to Friday. There will also be a free workshop on February 12.
To learn more about this and similar topicsArt Exhibition Lost Gods Exhibition Mythology Nordic Mythology Victoria Olt Victoria Olt Gallery