A Gastronomic Day Trip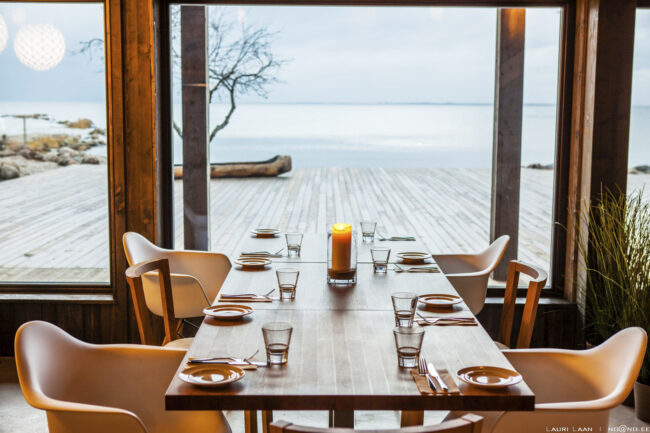 A glimpse at Estonia's 50 best restaurants outside of Tallinn.
This year's list for top restaurants saw many new places added. In Tallinn, for example, the fine dining restaurant Konrad, casual Kaks Kokka, funky Manna La Roosa, and the popular Rataskaevu 16 were added to the list, among others. The beach side town of Pärnu also had quite a few restaurants make the list, like Piparmünt, Kalamajaka Kohvik, and Raimond. Needless to say, there are many great places to visit. Read on as we take you further afield.
A great thing about Estonia being small is that it's easy to go for a day trip or drive outside of the city for a great meal. While the cities receive visitors regardless, the great restaurants in between can sometimes be overlooked. Here's a look at some of the 50 best restaurants worth a little detour.
Ööbiku Gastronoomiatalu
Kuimetsa Village, Kaiu Parish, Rapla County
A true farmhouse restaurant, located about an hour's drive from Tallinn, where chef Ants Uustalu prepares a five-course meal using local ingredients. Guests call in advance for either dinner (Wednesday to Saturday at 19.00) or a late Sunday lunch at 15.00. The cost for a meal is €42, excluding wines, which Uustalu has available for purchase by the glass.
Tammuri Talu
Mäha Village, Otepää Parish, Valga County
Tammuri Talu, located in southern Estonia, has a similar farmhouse restaurant concept, but the menu has a little bit more of a European and international influence. Set in a farmhouse built in the mid 19th century, Eriki Saare manages it himself. There is no set menu. Should you need to, you can also stay overnight as well in the guesthouse.
Ruhe
Sadama tee 10, Neeme Village, Jõelähtme Parish, Harju County
This seaside fish restaurant is but a 30-minute drive from Tallinn and boasts a beautiful terrace. In summer, the restaurant is open daily from 13.00-22.00. The menu consists of fish and seafood dishes, prepared with local and European ingredients. Flavours are fresh and simple. It's certainly worth the drive for a lovely meal out of town on a sunny day or warm evening.
Põhjaka
Mäeküla, Paide Parish, Järva County Three chefs moved to the country and fixed up an abandoned manor house from 1820. The result: a great culinary project, where nothing but local ingredients are used, much of which is sourced from their gardens. The menu changes daily, based on seasonality.
OKO
Sadama tee 1, Kaberneeme Port, Harju County
OKO, located only a 30-minute drive from Tallinn is a great place to spend a sunny afternoon by the sea. This seaside restaurant has made it onto the list every year since opening two years ago. The playful seasonal menu focuses on local ingredients, with a selection of fresh fish and meat. In summer, they fire up the grill. Overnight accommodation is also available.
Aleksander
Pädaste Manor, Muhu Island Aleksander, voted the best restaurant in Estonia from 2010-13 is a true gastronomic destination. The nine-course degustation menu is a sight to behold. Plates are beautifully designed with interesting flavour combinations featuring the best of the Nordic Islands' cuisine. There is also a smaller seven or five course degustation. Overnight accommodation is available.
TEXT KRISTINA LUPP, PHOTOS LAURI LAAN
To learn more about this and similar topics