Youth and beauty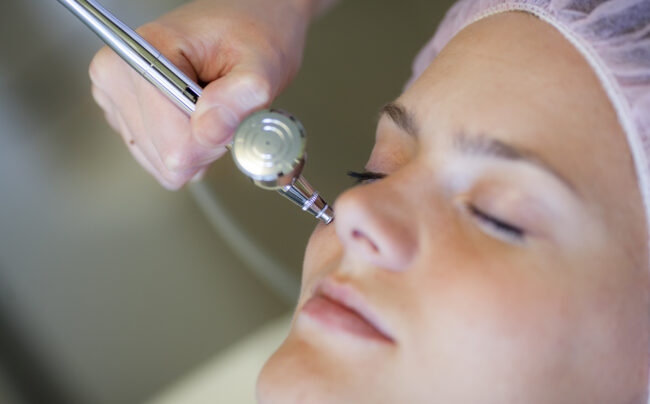 Medemis has your summer skincare covered.
Travelling is fun, seeing new things, meeting new people, but travelling also takes its toll on your skin. After stepping off a flight your skin is left dehydrated and not looking its best. There is a solution –Intraceuticals. Celebrities like Madonna swear by this oxygen facial, giving their skin the boost it needs without an invasive procedure.
What is Intraceuticals? It is a one-hour facial procedure that uses oxygen under pressure to deliver specially formulated serums (containing anti-ageing ingredients, vitamins, and antioxidants) that hydrate the skin, leaving it firmer, tighter, and fresh. In other words, it leaves your skin looking fantastic.
Medemis offers Intraceuticals (1 hour, €120) in their convenient Tallinn city centre location. "Clients often come for the facial the day of an important event or before a party," says Kristel Kaur, beauty specialist at Medemis. "After the facial you can put your makeup on right away and be looking your best for the evening ahead."
While Intraceuticals can become part of your regular beauty regimen, some of us have lines and wrinkles we would like to get rid of. Medemis also offers a range of facial and skincare procedures, including injectable fillers. Injectable fillers are beauty injections that fill lines and wrinkles for a longer period (up to 18 months). "I had read about Juvederm in a magazine and decided to make an appointment for a consultation at Medemis. The doctor suggested that the most effective and natural way to fill wrinkles around my nose and mouth would be with Juvederm", said Anne, a satisfied client. "I was amazed to see the results immediately after the procedure! I was left looking younger and feeling great."
Medemis offers free consultations. Bookings can be made online through their website. If your wrinkles are bothering you, then why not meet with one of Medemis' specialists to talk about the right treatment for you.
Location
Medemis
TEXTKRISTINALUPP,PHOTOSANDREICHERTKOV
To learn more about this and similar topics