Viking Graves and Samarkand Dirhams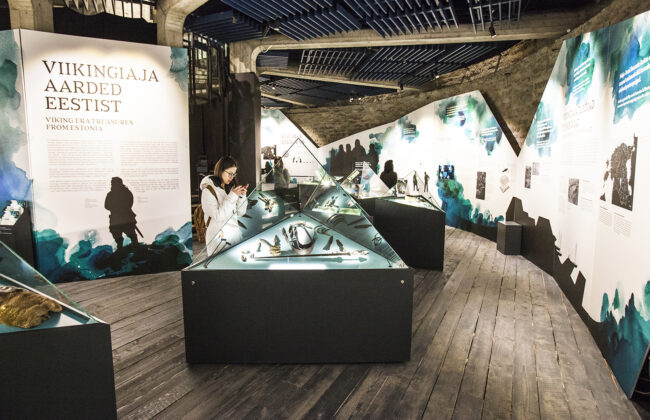 One thousand years ago, Northern Estonia was an important trade route. Vikings didn't travel the trade routes as feared men, but as merchants.
The fascinating viking exhibition at the Maritime Museum has many artefacts, all of which have been found in Estonia. This is the first time there has been such a comprehensive display. The oldest artefacts are from the year 400. The perception of vikings and other merchant journeys has changed and evolved through the help of excavations.
Silver coins found in Estonia have travelled here from Constantinople and Samarkand. They were used to purchase Estonian iron, which you can find out more about, like how it was made.
The ancient fortress of Iru sat where Tallinn is now towards the mouth of the Pirita River. This was one of the most important places on the trade route. The journeys of the viking ships (about 30-40 km) travelled through ports and citadels to securely deliver goods from Arabia. They tried to avoid wars, as the goods they were transporting would suffer.
Many of the finds have been found in graves. Weapons were buried with bodies. Many objects were destroyed during cremation, but the remains can be interpreted by archaeologists. The most recent excavation was from grave sites on the island of Saaremaa in Salme, where two viking ships were found with tens of buried soldiers.
The viking exhibition in Fat Margaret's Tower is open until the end of August. The exhibition is also fun for children. The museum is open until May from Tuesday to Saturday and in summer will also open on Mondays. 
Location
Viking Era Treasures from Estonia – Exhibition
Estonian Maritime Museum, Paks Margareeta, Pikk tänav 70, Tallinn Old Town.
meremuuseum.ee/en/

Click on the address to see the location.
TEXT MIKKO SAVIKKO, PHOTOS ANDREI CHERTKOV
To learn more about this and similar topics