Updating Tallinn's Restaurant Scene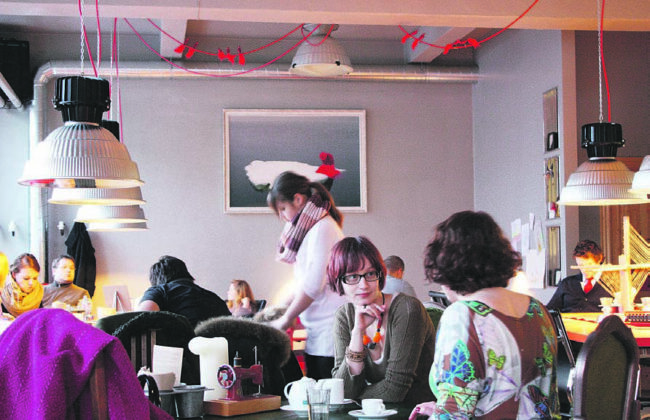 Updating Tallinn's Restaurant Scene
Until now, this suburb was known for its cafés, and only the brave explorer in search of Soviet nostalgia dared to seek out them out. This suburb, remembered for some its quirky locales, served up cheap beer, and sprat sandwiches; the latter being what might have kept the tourists away.
Moon's unique gourmet style sits on the outskirts of the suburb. This restaurant has been highly acclaimed by critics and continues to remain very popular. Bookings recommended. Moon set the example and some very interesting restaurants have opened up as a result.
We visited four different restaurants, which all had three things in common: trendy, youthful and reasonably priced. F-hoone, Kamahouse, La Bohème, and Tops all have similar principles. They work in reclaimed space not originally designed for a restaurant. Each place uses recycled furniture and other items not found in regular shops. Their mismatched interiors always offer something to look at. With good food and good service, it can be said that Tallinn's restaurant centre is shifting northwards.
F-hoone has an international menu, which means flavourful Asian spices complement local food. The baked cod was tender and juicy. It was served with a potato cake and vegetables that did not override the delicate flavour of the fish. This old factory warehouse has certainly been transformed into something great.
Kamahouse has a little bit of everything. An artist's studio, gallery, shop, law office and restaurant can all be found under one roof. This place is certainly worth a visit.
The Kamahouse kitchen offers great meals made with quality ingredients for reasonable prices. Main courses are 5.90€ and the duck breast with mushrooms was certainly worth it. The interior is interesting and cosy.
Boheem Café, like the name suggests is a café, but also a great restaurant. The menu offers soups, wraps, crepes, and salads. Portions certainly satisfy hunger without emptying your wallet. Their Caesar salad is one of the best in the city. And there were no complaints about the crepes and soups either.
Tops isn't really a restaurant because it doesn't have a kitchen either. Snacks are displayed on the bar. We tried the goat's cheese salad: the toasted bread, rocket, balsamic dressing, crisp salad and a soft cheese complemented each other. A larger portion works well even for dinner. You can even choose the music from their large vinyl collection. Tops can be described as a retro gourmet and drink bar.
Cafés/Bars:
* Boheem, Kopli 18. Main courses under 5€, beer 2.50€ / 0.5L. On Kopli street, Telliskivi tram stop.
* Tops, Soo 15. Snacks 2-4€, beer 2.50€ / 0.5L. Lounge, Põhja pst tram stop.
Restaurants:
* F-hoone, Telliskivi 60a. Main courses 5-9€, wines from 10€ / bottle, beer 2.60€ / 0.5L. In an old industrial building, Telliskivi tram stop.
*Kamahouse, Kopli 25. All main courses 5.90€, wines from 12€ / bottle, beer starting at 2.50€ / 0.5 L. Art and more, Angerja tram stop.
* Kohvik Moon, Võrgu 3. Main courses from 9-6.50€, wines from 17.50€ / bottle, beer 2.50€ / 0.5L. Near the Kalasadam, Linnahall tram stop.
TEXT: JUKKA ARPONEN PHOTOS: JUKKA ARPONEN JA ANDREI CHERTKOV
To learn more about this and similar topics