Trump Conception's Janno Trump: Old Enough and Good Enough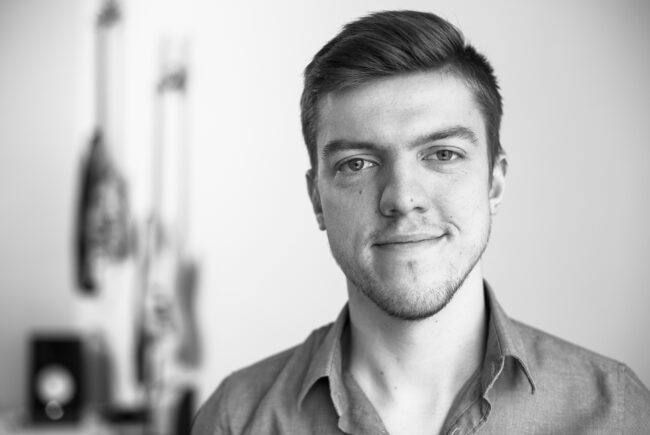 The Trump Conception is one of the most talented jazz collectives in Estonia right now, and is just beginning to branch out internationally on the back of the ten-piece band's debut album, called One, which radiates no-nonsense, good-time vibes and is a must-listen. 26 year-old bandleader Janno Trump sat down with the Baltic Guide to talk through the new release, the Estonian jazz scene, and that famous (unrelated) namesake.
First of all, Trump cleared the elephant in the room – sharing a surname with the controversial new President of the United States. "We considered changing the name, but we've already released the album, so I don't know… There are so many aspects to this, and right now I don't want to change the name, but we've got two festival gigs coming up in Latvia and Lithuania in the summer, and I can imagine how it looks to someone who doesn't know the band and doesn't live in Estonia. A friend told me there's no bad publicity, and maybe that's right."
"I just felt something – my own thing – was missing," Trump says, explaining why he formed The Trump Conception in 2015 with a group of his friends. "There's only one chance. At that point I'd written some tunes, but I didn't know what lineup would play them. There was one particular tune that I really liked, and which made me think the big band was the right way to put it out there. All of a sudden there were seven or eight tracks, and it grew from there."
The band was picked from various sources by Trump. "With some of the guys, we used to play together at the Georg Otsa School, and then with others, I had the opportunity to play in bands with them. When it came to recording these tunes, I knew exactly who I wanted to call. I know their pros, cons and so on so well that I'm not going to write something that doesn't play to their strengths. For all of us, our musical journeys have met at some point in life, and that gives us an understanding of where we're coming from musically."
"The recording was in separate sessions – we recorded the rhythm section in Latvia, drums, bass guitar, electric guitar and piano, then step-by-step we recorded horns, and percussion. There were so many sessions because there's really so much to record, and there's also a lot of work to do after the sessions. It takes a long time."
However, Trump did not want a pristine product, but an example of his band as a living, breathing collective. "Everybody wants to get his or her album to be as clear as possible, but there's a danger that if it's too clean, it's boring. You can't repair everything. I know there are some mistakes on that recording, but I didn't want to repair everything, because it's good when the listener wonders from time-to-time if that was a mistake or intended."
There were several key inspirations for the positive, sunny sound of the album. "Jaco Pastorius, a bass player, made some phenomenal recordings, and I think he's number one for me.  Pat Metheny, a guitar player, another jazz guy, and Richard Bona, a bass player, they're all major influences for me. In Estonia, my own teachers in the Otsa School have been influential for me. Raul Vaigla is a fantastic bass player, for example."
"All the songs on the album, I think you can recognise them in the gigs, but each time we play instrumental solos, we do so in a different way. Because it's a big band, I can't think that everything is improvised, otherwise it would be chaos. You have to write something down, figure out some main melodies and harmonies, and then you can work around that."
For Trump, 2017 is about getting out there and gigging to spread the word. "We've got a live session coming up in the [recently renovated] Estonian Raadiomaja [Radio House]; I've heard really good words about the place, the new technology there should be brilliant. I've also been working on those festival gigs for three or four months now, trying to push the group out beyond just Estonia." Nonetheless, Trump is proud of his peers in the young Estonian jazz scene. "There are so many names [to look out for]. If you look at the Music Academy, it's full of talent. I've had the pleasure to play with Maarja Aarma [a singer, part of Gretagrund as well as a solo artist], and [saxophonist] Alexander Paal just gave some amazing concerts with his quartet. Holger Marjamaa, the piano player… I can't say everyone, the list is too long."
26 is a young age for a jazz player, and exceptionally young for a band leader. Being the authority figure isn't a concern for Trump, though. "Actually I don't think about it. You can't lead a band and think about that. It doesn't matter how old you are – it's your band and your business!"
One, by The Trump Conception, is out now in record stores and on Spotify. Janno Trump plays in the band for wartime-style vocal group The Swingin' Sisters at Tallinn's Chicago 1933 (Aia 3, Tallinn Old Town) on Friday 3rd February and Sunday 19th February at Philly Joe's Jazz Club (Tatari 4, Tallinn).
TEXT STUART GARLICK, PHOTOS ANDREI CHERTKOV
To learn more about this and similar topics