Top Burgers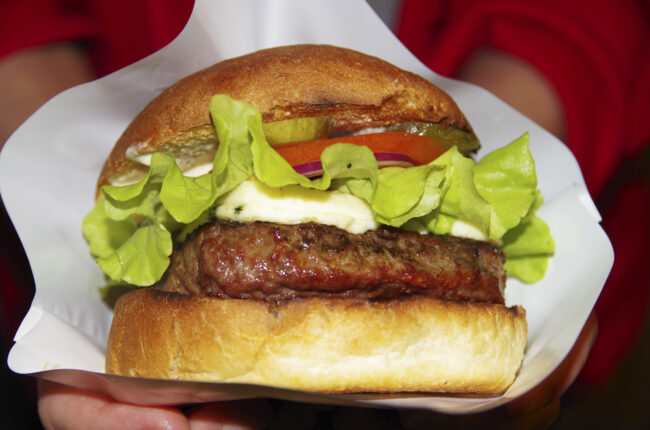 Where to find the best burgers in Tallinn, as suggested by locals.
A good burger has good meat, fresh buns, and uses quality ingredients. It's not to be overcooked. The fries on the side are just as important. Are they crispy? And what about sauce? We asked local burger lovers where they go to satisfy their burger cravings. Here is what they told us.
Vesivärava Grill
About 80% of the Tallinn locals we asked mentioned Vesivärava Grill. Why – well the burgers are grilled and enormous. Located right next to a café of the same name, Vesivärava Grill has nine different kinds of burgers on the menu, as well as a chicken burger and a veggie burger.
R-18 Väike Resto
Väike Resto is the latest addition to the Tallinn burger scene and offer a burger-only menu as well as pulled pork sandwich and chicken fillet burger. For a restaurant that is located in Town Hall Square, the prices remain reasonable. Be sure to check the board for daily specials, which often include a burger with fries and sauce of your choice, otherwise, you have order each separately. Väike Resto scores bonus points for their house made mayonnaise (tarragon, mustard, chilli, or aioli) as well as guacamole, blue cheese cream, or BBQ sauce.
Mack Bar-B-Que
This is the place to come for a hamburger that is almost the size of your plate. Mack Bar-B-Que's hamburgers are just as you would get in America: grilled and overflowing with toppings. Choose between a salad or fries on the side. The burger menu also boasts a southern fried chicken burger, pulled pork sandwich, and a pulled chicken burger.
Rocca al Mare Shopping Centre
Late night burger munchies
Tommi Grill – Open until 7am seven days a week. Tatari 64, Tallinn
Söögiplats – Open 24hrs. Tatari 1, Tallinn
McDonald's – Open until 4am Fridays and Saturdays. Viru 24, Tallinn Old Town
Tommi Grill Metro– Open until 2am Fridays and Saturdays. Viru väljak 2 (Metro Plaza), Tallinn 
Other local favourites:
NYC Piano Bar – Small burger menu including a salmon burger and a chicken burger. They also offer sliders or mini burgers in orders of four or eight.
Vana-Posti 8, Tallinn Old Town 
NYNY – One burger on the menu, served with remoulade sauce and steakhouse fries. Kentmanni 4 / Sakala 10, Tallinn
Fish & Wine – While you wouldn't expect a fish restaurant to have burgers, but we heard from a few locals that the burger is excellent – it is served with aioli and fries. Harju 1, Tallinn Old Town
Goodwin Steakhouse – If you are hungry, this popular Tallinn steakhouse serves a 500g burger with all the fixings. Viru 22, Tallinn Old Town
Estburger – Located right behind the Harju street skating rink, Estburger offers a lengthy burger menu. The burgers are everything you would expect from a burger kiosk, but as snack after an afternoon of skating, why not. We recommend asking for the sauce on the side, and try the onion rings instead of the fries. They were some of the best in town. Harju 40a, Tallinn Old Town 
Dereku Burger
This popular Saaremaa burger joint had a brief stint in Tallinn with a location near the Port. Tallinn locals were very enthusiastic about Dereku Burger, but now you have an excuse to go and visit them in Kuressaare on the island of Saaremaa.
Kuressaare Turg, Tallinna mnt 5 Kuressaare
Opening soon: Estonian Burger Factory
The brains and some say the talent behind the popular Vesivärava Grill are going to open a new burger joint in Tallinn under the name Estonian Burger Factory. Location is yet to be determined, but we will keep you posted via Facebook and Twitter.
TEXT KRISTINA LUPP, PHOTOS ANDREI CHERTKOV
To learn more about this and similar topics