To me there is no other choice: Raoul Wallenberg 1912 – 2012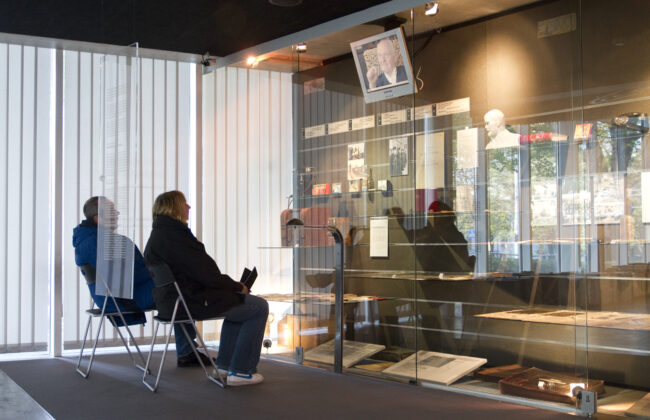 innamuuseum: city museum, tallinn, old town, history, virgin tower, city wall occupation museum: occupation, museum, history, tallinn, soviet, nazi, w
The Estonian Museum of Occupations has a display of two thrilling exhibitions, about two legends and heroes, the Swedish diplomat Raoul Wallenberg and Nobel Prize laureate writer Aleksandr Solzhenitsyn. Both men suffered under Nazi and communist oppression.
The Swedish Government has decided to commemorate, both in Sweden and internationally, Raoul Wallenberg's centenary in 2012 by honouring his memory with various events and activities. In Estonia, the life, deeds, and destiny of Raoul Wallenberg can be followed through the exhibition To me there is no other choice: Raoul Wallenberg 1912 – 2012."
Raoul Wallenberg made a unique contribution in the second half of 1944 by saving tens of thousands of Jews in Budapest from the Holocaust. His actions show that one person's courage and ability can make a difference. His actions are a model for us, not least at a time when more people needed to stand up against persecution, xenophobia, and anti- Semitism.
Raoul Wallenberg was captured by the Soviet Union and taken to the notorious Ljubljanka prison in Moscow. No one knows for sure what happened next, and the Swedish Government is still demanding an explanation. Raoul Wallenberg fought against one of the terror dictatorships of his time, and was killed by the other.
Raoul Wallenberg is also connected with Estonians who fled the Soviet occupation. During the Cold War, the Soviet Union made proposals to Sweden for an exchange of Estonian refugees against Raoul Wallenberg. Thus, Wallenberg might have been released if tens of thousands of Estonians would have been repatriated to Soviet occupied Estonia. Sweden rejected the proposal, which most probably cemented the fate of Wallenberg.
The exhibition To me there is no other choice: Raoul Wallenberg 1912 – 2012 is produced by the Swedish Institute, on behalf of the Swedish Ministry for Foreign Affairs, and in collaboration with the Forum for Living History. The exhibition is open until the end of February.
The Estonian composer Erkki- Sven Tüür devoted an opera to Wallenberg in 2001.
The exhibition on Aleksandr Solzhenitsyn will open in December.
Location
Museum of Occupations (Okupatsioonide Muuseum) Toompea 8, Tallinn Old Town B1 www.okupatsioon.ee
TEXT TOOMAS KÄBIN, PHOTOS: ANDREI CHERTKOV
To learn more about this and similar topics