This weekend two design markets will take place at old factories in Tallinn
Text Timo Huttunen and Mark Taylor
Photo Tiina Azojan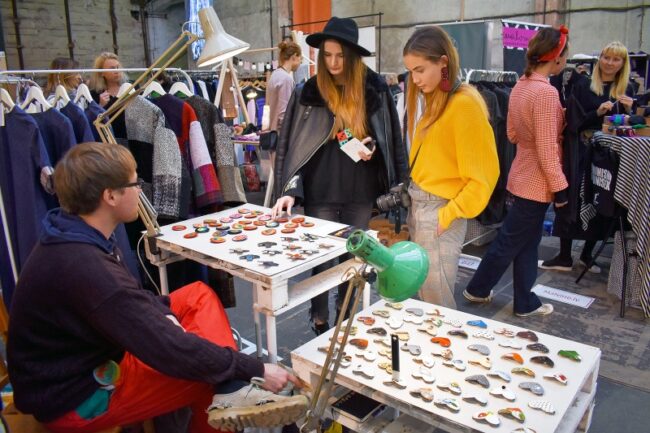 This weekend as part of the Tallinn Design Festival (Disainiöö), the traditional and popular design street (Disainitänav) will return. Along the street, you will be able to discover great design, fashion, accessories, and interior design products.
More than a hundred designers and brands from around Estonia, but also from, for example, Georgia and Moldova, will participate in the event. In addition to getting to know the products, the design street is also a good opportunity to get to know the people behind the products on sale and their stories.
The event, which is free of charge to enter, will take place at the Baltic Manufactory in Tallinn on September 24 and 25 from 12 noon to 6 pm.
More information on the event can be found on the official Disainiöö website here.
Design, art, handicrafts and vintage items will also be sold at Põhjala Turg this Saturday
A market event called Põhjala Turg will be held on Saturday in the first hall of the Põhjala Tehas factory in Tallinn. Entry to the market is free of charge.
The events make it possible to visit two great old factories in the same day. You can also make real design discoveries in both places.
Design, art, crafts, vintage and much more can be found at the Põhjala Turg market. Food and drink will also be available at the market and music will be provided by DJ Põder.
The market is only open on September 24 from 12 noon to 5 pm.
You can find out more about the event here.
To learn more about this and similar topicsArt Design Disainitänav Disainiöö Interior Design põhjala tehas Põhjala Turg Tallinn Design Festival