The Ultimate Pedicure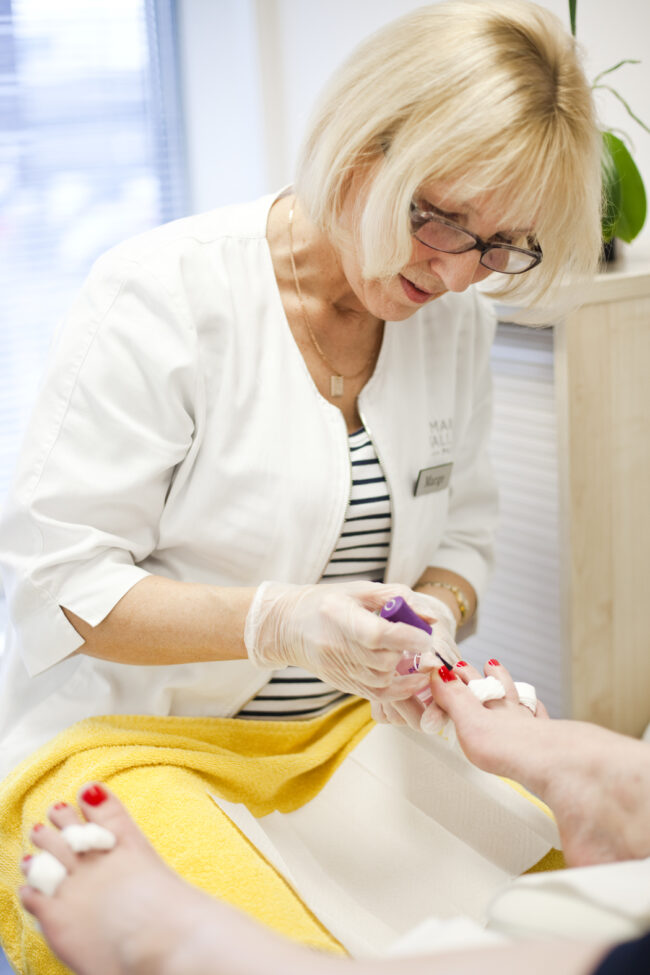 A solution for problematic feet.
Many of us are embarrassed by our feet – ingrown nails, corns, and nail fungus can be not only humiliating, but painful too. And there is no reason you should be suffering. The classic pedicure may look good, but it only covers up the problem.
There are tons of places you can go for a pedicure. They vary in quality and price, so how do you know how to choose? First, choose the type of pedicure you need and if you have some of the foot problems mentioned above, a medical pedicure is the best choice. A medical pedicure fixes the problem; it doesn't just cover it up.
A medical pedicure focuses on foot hygiene and aesthetic care. Unlike in nail salons, foot care specialists assess the foot then recommend a treatment using advanced equipment. For anyone who is self-conscious about their feet, a medical pedicure is a worthwhile investment. In the UK, a similar treatment could cost you around 80 pounds , in Tallinn however, prices start around 30 pounds , and the quality of care is no less professional than in the UK.
Nail drills, scalpels, lasers and other such instruments are the tools used in a medical pedicure. Yes, this may sound worse that a trip to the dentist, but the results are worth it.
Take, for example, common problems like ingrown toenails.
These can be cut out so that the nail can grow back properly. A laser can treat nail fungus. It's a safe and effective way to treat this common problem. Corns can be treated by applying a skin softener, though in more extreme cases may need to be removed. Medical pedicures also treat athlete's foot, calluses, dry, cracked heels, and nail discolouration.
Medical Pedicures in Tallinn
Tiia Ilusalong
Estonia pst 1/3, Tallinn
Located on the third floor of the MELON Shopping Centre.
NailSpa
Narva mnt 9, Tallinn
i3 Viru Ilusalong
(Pedicure for problematic feet)
Sokos Hotel Viru 3rd floor (entrance through the hotel) Viru väljak 4 Tallinn
Tips for good looking feet
While the medical pedicure can fix many problems, taking preventative measures to take care of your feet can help you in the long run. Here are a few tips:
Always remember to dry between your toes.
Cut your nails properly by trimming them straight across.
Keep your feet moisturised.
Always wear sandals at public pools.
Click on the address to see the location
TEXT KRISTINA LUPP, PHOTOS ANDREI CHERTKOV
To learn more about this and similar topics