The sounds of silence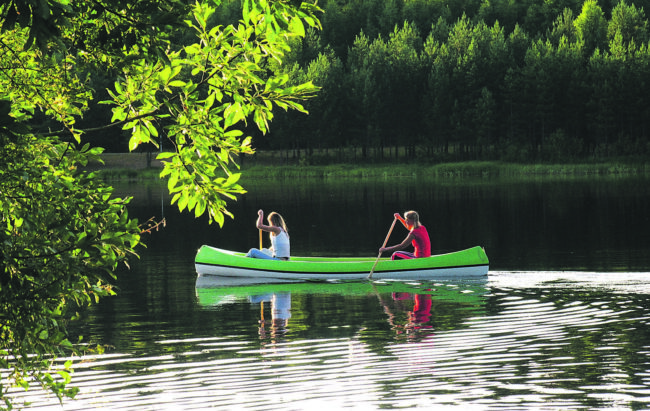 The sounds of silence
Canoeing is easy on this river because it is straight and there are hardly any rapids. Strong winds however, will sometimes make you work hard.
The river flows under the shade of the forest and the sounds of thousands of crickets and grasshoppers are the best soundtrack as you paddle along. Many different species of birds can be spotted. You can really hear the peaceful silence of the wilderness, lost among the reeds.
You are not allowed to bring your own canoe into the park, but you can rent one from the local nature tour company. Get more out of your trip by taking along a guide who will tell you about Matsalu's nature and history. The trip will generally take you three to four hours. There are no maintained campsites or beaches.
Soomaa National Park
Located between Pärnu and Viljandi, Soomaa National Park is perhaps one of Estonia's most famous canoe destinations. The following rivers flow through the park: Halliste, Raudna ja Lemmjõe.
In addition to the marshes, this park has dunes, meadows, and glorious forests. Beautiful old oak trees grow on the dunes, each one lovelier than the last.
In Soomaa there are a number of RMKs (Estonian Forest Management Centre) who maintain the campsites. Soomaa is a great place to spend a few days. The rivers generally flow calmly. You may come across the odd fallen tree along the way.
Southern Estonia
The landscape in southern Estonia is different from the rest of the country. There are steep hills, farmland, and spruce trees. In addition to the rivers, there are numerous lakes in the area. Beaver dams and rapids create many challenges for paddlers.
Estonia's longest river, Võhandu (162 km), is another one of the most popular canoeing destinations. The Võhandu marathon is held in the spring, which runs 100 km from Võru to Lake Peipsus. Waterfalls, dams, and flood zones make this river a good challenge for advanced paddlers. First time paddlers are encouraged to take along a guide.
Another favourite river in southern Estonia is Ahja, which flows into the Emajõgi. Ahja is beautiful and surrounded by unique red sandstone cliffs. It is considered one of the most scenic rivers in Estonia.
Lahemaa National Park
Some of the most picturesque rivers are located along the north coast of Estonia, where you can often find a waterfall as well. The closest canoe destination to Tallinn can be found in Lahemaa National Park. Lahemaa's nature is diverse with its spruce trees, meadows, and marshes.
The Valge River, which flows into the Gulf of Finland, is the largest tributary and also the most favoured by paddlers. The river is well suited for more advanced paddlers because of its rapids. Canoe portaging is required in some places. Campsites can be found at Nõmmeveski. Organised canoe trips can be arranged for the Loobu River.
TEXT MIKKO VIRTA, PHOTOS MIKKO VIRTA AND AIVAR RUUKEL
Paddling in Estonia
There are many companies organising canoe trips in Estonia. Less experienced paddlers are encouraged to organise a guided tour.
Organised canoe trips can be arranged through the following companies:
Soomaa.com Canoe trips in Soomaa National Park.
Estonian Nature Tours. Canoe trips in Matsalu National Park.
Seikle Vabaks. Canoe trips near Pärnu.
360 kraadi. Canoe trips in Hiiumaa and near Tallinn.
Matkajuht. Canoe trips in southern Estonia, as well as Ahja and Võhandu rivers.
Reimann Retked. Sea canoe trips around the small Sommaa Islands.
To learn more about this and similar topics