The rich history of Venice is alive in Tallinn's Seaplane Harbour Museum
Text Timo Huttunen
Photo Aron Urb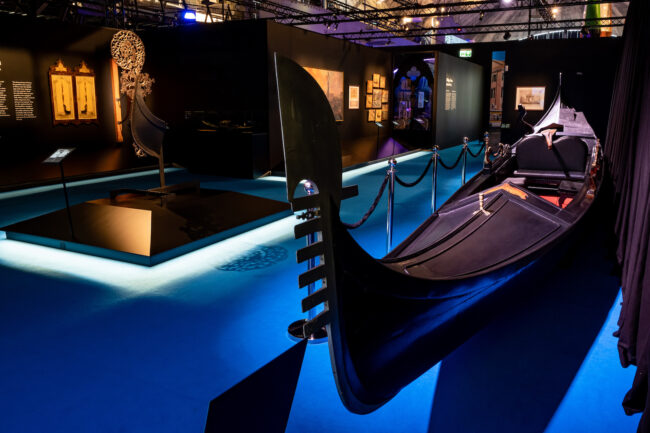 A new exhibition entitled "Venezia, Queen of the Seas" has opened at the Seaplane Harbour Museum (Meremuuseum) in Tallinn. The exhibition features art and objects from the time of the Venetian maritime empire, when the republic ruled the Adriatic Sea and was an important trading post in the Mediterranean Sea.
In the exhibition, you will learn about its republican administrative system, army, the Venetian upper class, as well as the common people and their customs. The military and economic power of the city-state flourished from the 1200s to 1600s.
The exhibition gives a thorough picture of the rise of the Republic of Venice, its golden age and subsequent decline, but also the challenges facing the city today, i.e. the struggle of rising sea levels and the disadvantages of mass tourism.
Works of art, historical finds and interactive objects tell the history of the city-state that once became a Mediterranean power and its powerful figures.
The exhibition begins with a presentation of the city's unique geographical position and historical structures.
Venice was an important trading city. Its central location, sea routes, goods flows and technical solutions gave the republic good tools to control the connections between the Mediterranean Sea and the Silk Road.
Special attention in the exhibition is directed to the core of Venice's maritime power, its shipyards. At its best, the world's first modern shipyard could launch one warship a day.
The last part of the exhibition tells about Venice as a cultural centre and the city's struggle against the constant rise of the sea level, which threatens to submerge this beautiful city in the near future.
The exhibition is complemented by a section about the connections between Tallinn and Venice. The development of relations between the two cities began at the beginning of the last century, when Estonian cultural figures often visited the city. The presentation ends with the world-famous Venice Biennale, in which Estonian artists have also participated.
The "Venezia, Queen of the Seas" exhibition is open until January 7, 2024.
To learn more about this and similar topicsExhibition Maritime Meremuuseum Seaplane Harbour Venezia Venice