The new restaurants and bars of Pärnu's riverside
Text and photo Mikko Virta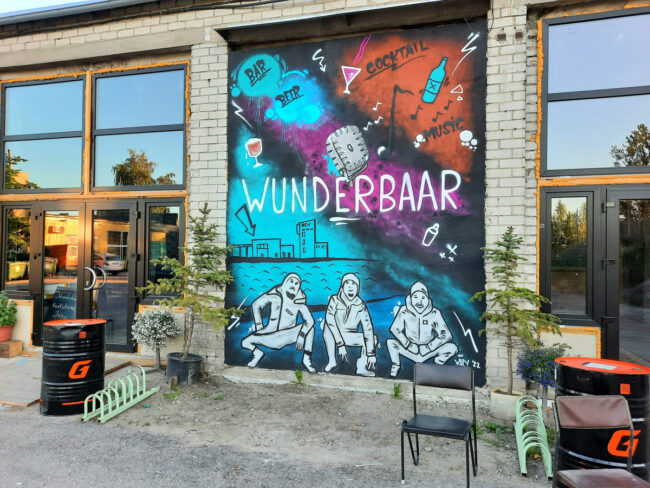 At the beginning of July, when Wunderbaar was opened in a former industrial building, Pärnu got a bar offering high-quality live music on the riverside.
Pärnu's riverside has developed enormously in the last couple of years. Several restaurants and cafes have been opened in renovated old industrial buildings on the river bank. The developing area has been called Segutorn's quarter, and it has been compared to Tallinn's Telliskivi area.
Leivakas, Kohvila and Kastrul, which opened their doors last summer, have been popular since their opening. Leivakas is a bakery where you can buy fresh pastries and breads, and order cakes and other bakery products. The place is also known for its pizzas, which are made in a wood-fired stone oven. The pizzas are named after the streets of Pärnu, so the menu includes pizzas called Karuselli, Ringi and Suur-Jõe.
Kohvila is a nice little cafe with an excellent selection of wines. From the cafe's terrace, you can look out over the river and watch the traffic on the bike path passing by. Kastrul, which operates next door to the cafe, is a popular eatery which has a menu that is influenced by Asian and Mediterranean cuisines. The SunCity bar is located next to the food places, with a beach terrace where you can enjoy the warmth of the evening sun. In connection with SunCity, a river centre will also be opened in July, where guided SUP trips, boat rides and other activities will be organised.
In July, the riverside got a new addition when Wunderbaar opened its doors in a former industrial building. It is a bar and concert venue that offers live music and a good time.
Leivakas, Kohvila, Kastrul, Lai 10/3, Pärnu.
To learn more about this and similar topicsCafe Kastrul Kohvila Leivakas Pärnu Pärnu Riverside SunCity Bar Wunderbaar