The Natural Look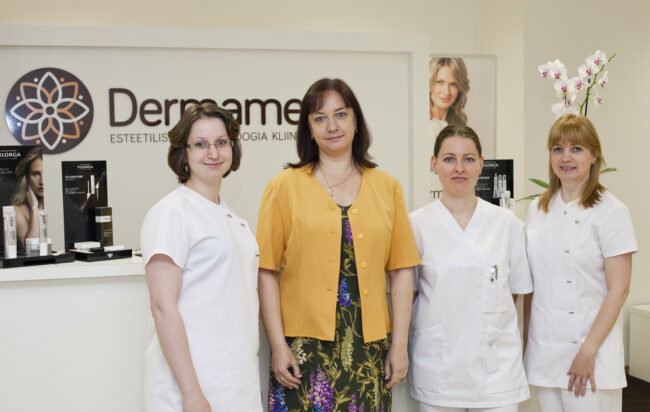 Dr Marge Uibu talks about the everchanging face of dermatology.
Finnish visitors to Tallinn may already be familiar with the popular Ihoakatemia Clinic in Helsinki. For those that are not, here is a brief introduction. Ihoakatemia opened in Helsinki in 2008 and is a dermatological and plastic surgery clinic. They specialise in aesthetic medical procedures and solutions for a variety of skin problems using the most modern technology and treatments, as well as top quality products.
Chief physician Dr Marge Uibu has had many years of experiencan continue treatmentin Tallinn without a second consultation. "Clients just don't have the time anymore to take off a week of work after an invasive surgical procedure," explains Dr Uibu. "Most of our procedures are non-invasive and clients can be back at work after a weekend. We appreciate the result of a natural treatment and healthy look."
Clients visit Dermamed for a variety of reasons. They often want to reduce the signs of aging, pigmentation disorders, the appearance of wrinkles, skin laxity, telangiectasia (facial vascular ce in aesthetic dermatology. She finished university of Tartu and then went on to specialise in Dermatology in Finland. She has led many seminars abroad, teaching dermatologists in Paris, London, and Moscow, and regularly attends international conferences.
Dermamed in Tallinn opened earlier this year. All of the employees at Dermamed have undergone training at Ihoakatemia in Finland to assure a seamless transition between the two clinics. This means that clients who begin treatment in Finland for example, lesions), rosacea, acne, or have permanent hair removal. Clients must first have a consultation to discuss what outcome they are looking for. "What's important is that the client feel good about themselves, about their appearance," Dr Uibu explains. "People don't want to look as though they have had a procedure done. They want something that looks natural and modern dermatological procedures have adapted to reflect this." Each individual skin condition is assessed and the best treatment modality is decided upon, be it with laser, radiofrequency, surgically, or chemically, as no two people are alike.
Location
Metro Plaza, Viru väljak 2 Tallinn
Mannerheimintie 5C, 6th Floor Helsinki
TEXTKRISTINALUPP,PHOTOSANDREICHERTKOV
To learn more about this and similar topics