The nail experts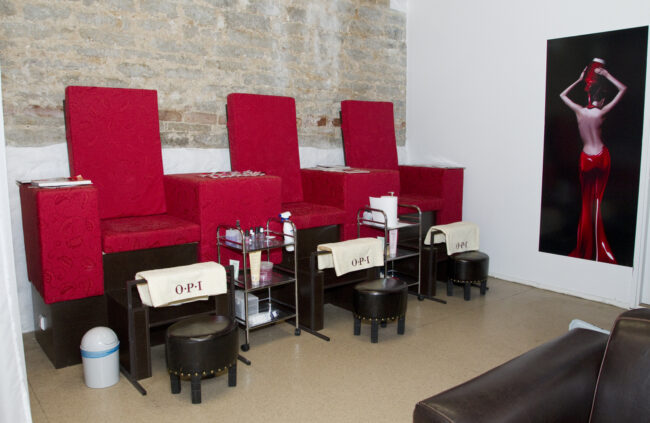 The nail experts
The staff at Nail Lounge sure know nails, but more importantly they give an excellent manicure and pedicure. Summer is a time to relax and not worry about your nail polish chipping off in the sand and in the water. The OPI Gel Colour manicure or pedicure is the perfect solution to this problem. The colour stays on your nails for up to three weeks, and usually clients come back to the salon with the colour having grown out, rather than chipped.
I decided to put this to the test and try a Gel Colour manicure. What is different about this manicure is that your hands must remain dry. Your nails are first filed and cleaned. The base coat is then applied, followed by the colour of your choice, and then a top coat. Between each application of polish, your nails are placed under a UV light to dry. Once the manicure is finished your nails are dry and your hands are given a quick massage. The entire procedure takes about an hour and costs 24.50€.
After two weeks, my nails had grown out and were only slightly chipped on the thumbnails. I had been on vacation during this time,so it would be safe to assume that the chipping came from packing and having to carry around a heavy suitcase. The polish did not lose its shine and was still as sheeny as it was on the first day. This varies with different nail types and conditions. For example, the polish does not stand up well to extremely humid conditions. It is recommended that you return to the salon to have your nails touched up, or the colour removed altogether. While it is possible to remove the colour yourself, going back to the salon will ensure that your nails are left in good condition. To remove the polish, a pad soaked with nail polish remover is placed on top of the nail and then wrapped in aluminium foil. After 10 minutes, the colour comes off almost as one piece. Some residual colour is left on your nails, which is then polished off by the technician. A touch-up with the same colour costs 24.50?, 28? for a new colour, or 24.50? to have the polish removed completely. This includes a manicure.
Location
Nail Lounge Mere pst 6A, Tallinn
TEXT: KRISTINA LUPP, PHOTOS: ANDREI CHERTKOV
To learn more about this and similar topics