The many architectural faces of Tallinn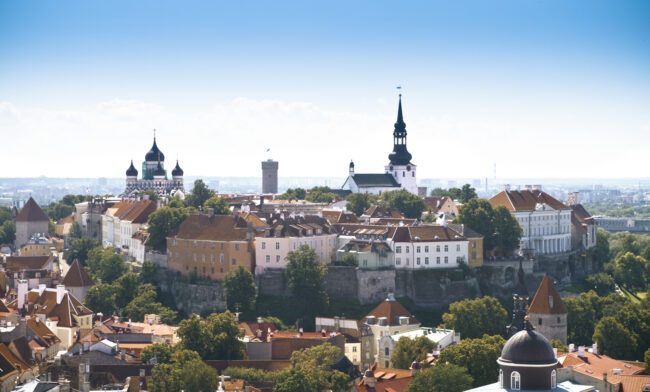 The many architectural faces of Tallinn
Tallinn is primarily associated with the Hanseatic period, but look around and you will find an incredible mix of styles, some beautiful, some a little more eclectic. If you want a comprehensive and structured view, visit the Museum of Estonian Architecture. But better yet, take a walk or a bus to see the buildings up close.
The Old Town
Many visitors only see the jewels of the Old Town that are dominated by medieval master pieces such as the City Hall, impressive churches, and the city wall with its towers. The most magnificent and symbolic building is the Toompea Castle and the Pikk Hermann tower. There are also many other interesting buildings such as the classic style parliament building at Toompea or the Art Nouveau Russian Embassy on Pikk Street. One might wonder why some areas in the Old town are empty; this is because Tallinn was heavily destroyed by Soviet air raids in 1944.
Central Tallinn
Outside of the old Town, the Tallinn central business district is dominated by Estonian functionalism from the 1930s – the golden age of Estonian architecture. Some good examples can be seen around the Freedom Square/Vabaduse väljak and along Pärnu road. Slightly older are two important national symbols: the Estonia Opera Theatre and Concert Hall and the Art Nouveau style Drama Theatre. In central Tallinn there are numerous monumental buildings from the Stalinist era as well.
Nõmme
Nõmme gives a glimpse of the new and modern Estonia that emerged before WWII. It is an era full of optimism and modernism that is reflected in the strict functionalist villas surrounded by pine trees.
Kadriorg and Kalamaja
Kadriorg is known for its splendid baroque castle built by Peter the Great for his wife Catherine. Take a look at the wonderful wooden apartment houses and villas in the surrounding streets. Most have been carefully renovated and painted in bright colours. Kalamaja is another gem, though poorer than Kadriorg, it is still pretty run down but the houses are slowly being renovated.
Mustamäe and Lasnamäe
Mustamäe and Lasnamäe represent Soviet ideology – the step to communism where the family had been abolished and replaced by the collective, thus private kitchens were no longer needed. Contemporary Western architects and city planning influenced Mustamäe, from the 1960s. Today buildings are being given a constant face-lift. Lasnamäe from the 1970s- and 80s seems to have been built just to house the tens of thousands of dwellers who were relocated or moved to Estonia from all parts of the then Soviet Union.
The Harbour Area
One might wonder why there is hardly any waterfront in a seaside town like Tallinn. The explanation is simple. In Soviet times citizens were not allowed to go to the sea. Today the waterfront is open and attractive for the city as well as real estate developers who have to agree on its future.
TEXT MIKKO VIRTA, PHOTOS ANDREI CHERTKOV
To learn more about this and similar topics