The Last Nights of Summer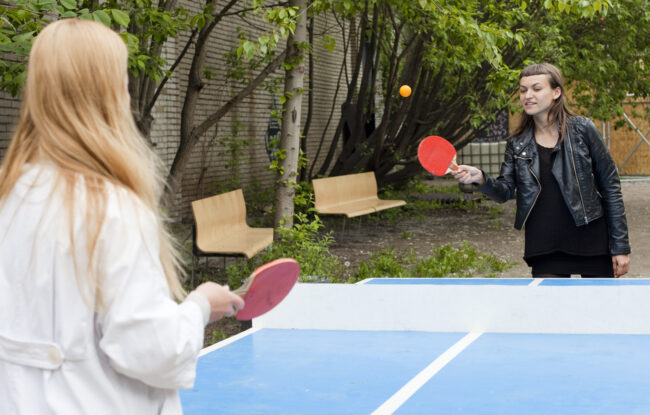 One thing you've got to remember when planning a night out in Tallinn is to plan according to your budget. Get drinks for you and your friends at the cheaper bars, and the more expensive places begin to seem like better value. There are plenty of nice bars that won't chew up your salary but are a nice change from the Old Town norm. You can find fun at night in a whole host of places, in a short walk from the Kala Sadam to the Rotermann Quarter.
Starting at the tip of the Cultural Kilometre, Kanala is a fine outdoor bar, set up in a former workshop space next to Kultuurikatel, which is going to be a fascinating cultural incubator. For now, though, we have the more down to earth thrills of Kanala, where anything can happen. There have been guest DJs, theatrical performances in the adjoining Kultuurikatla Aed, pizza workshops, and baked potatoes to help line the stomach late at night. I was in a hot tub here at 5am at the beginning of the summer, in an example of a very Estonian pleasure.
After the summer season passes and Kanala winds down, Kohvik Klaus is a classy place to pass the late evening, and although the service leaves little to be desired, book in advance and you can sample some fine wines and excellently prepared salads, overlooking one of Tallinn's finest views, the northern coast. The sofas are comfortable; the full-length windows allow you to keep warm while viewing the impressive landscape.
Next to Kanala is another nightclub set in an old industrial building. This small building, with a smoking area and garden outside, hosts parties all year round, and is the perfect place for checking out hipster trends while enjoying some brilliantly-curated music, which, depending on the night in question, might be old-school '80s rap, modern-day industrial music, or anything in between. The space is often hired by companies or groups for special parties, and although it can be closed depending on the day, you can be sure of a great party. Take cash, as though the drinks are cheap, they have no card machine.
Walking into the Rotermann Quarter, those converted mills now housing trendy offices and swanky shops and restaurants, you might usually make a beeline straight for one of the brightly-lit cocktail bars. On this occasion, don't. You want your money to last all night? Go to Protest. One of Tallinn's liveliest bars, it's been running, in pretty much the same shape, for the entire three years I have been in Tallinn. Customers know what they will get when they come here – locals know to come here because it stays open all night and sells beer and spirits at a reasonable price. It also stays open late at weekends. Get your drinks rounds done here – it's cheaper than Hetk, where you'll go next, and Protest is a fine place for drinking and conversation to come together.
Protest has comfy sofas, but it can also get very crowded at weekends, so make sure you have sharp elbows on the way to the bar. Also, if you're a tourist, be aware this is an unvarnished experience – this is a drinkers' bar, where the conversation is good and the music not too loud, but you have to be respectful of local traditions and customs when chatting to your mates. If you do that, you'll make friends and have a fine time – just like I did when I came to the bar as a holidaymaker four years ago.
The on-pointest of the on-point, Hetk opened last year with a new look, the building having previously played host to a hard-to-love dive bar. The difference could not be bigger with what we have today. Hetk is a comfy bar with big sofas on the lower floor, exceptionally good bar- food, and an upper floor that is even more favourable for chatting, the bench seating encouraging groups to get together. The bar, right from the start, sold itself on the way it chose the best local DJs. This is still true these days, and although you may have to pay up to %10 on a day when a big name is behind the decks, it's well worth it when you get inside. It may attract Tallinn's hipster population, but it's a place for everyone. The only drawback is that the drinks – including a vast selection of imported beers – are expensive, but people come here to dance, and as it can be so hard to make yourself heard in the echoey shell of a building, that's what you should do – maybe in the bar's vast outdoor area on a warm evening.
To learn more about this and similar topics