The Islands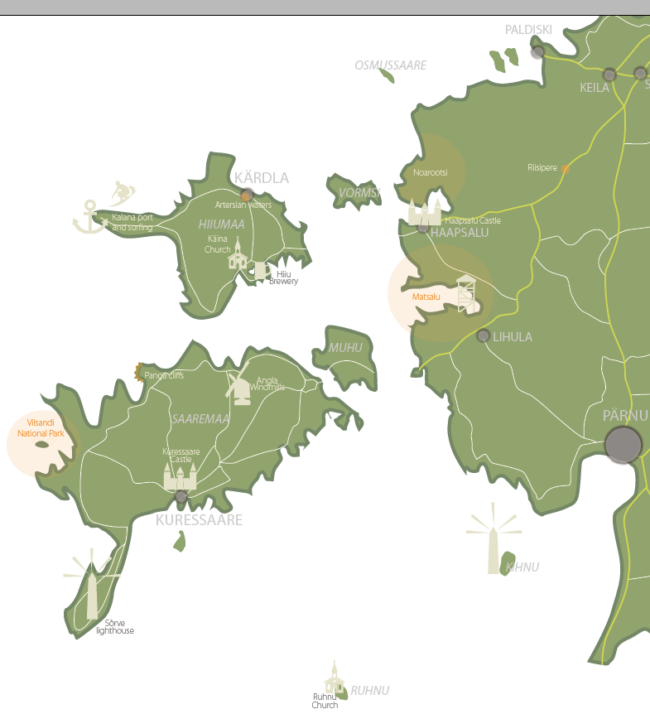 Thousands of islands speckle the coastline of Estonia, each with their own story to tell.
Estonia's islands boast untouched nature and seaside villages that seem almost trapped in time. The two largest islands, Saaremaa and Hiiumaa are a good place to start, though each have much to see and do that each could be a trip in themselves. There is plenty of hiking, horse riding, and ruins to explore.
Saaremaa is the largest island and is a popular spa destination. Its capital city, Kuressaare has an episcopal castle that is definitely worth a visit for its fantastic museum and beautiful grounds. The well preserved and restored castle dates back to the 14th century.
Vilsandi National Park is a must-visit for nature lovers. It is comprised of 150 islands that are home to interesting plant and animal species, with many fossils to discover as well.
Hiiumaa is celebrating its local flavours this year with the Flavours of Hiiumaa year, as it was chosen as Estonia's Undiscovered Treasure competition for best food tourism destination in 2015. Be sure to visit at the beginning of August for the Kärdla Café Days, where local residents turn their yards into outdoor cafés and restaurants.
The Estonian islands have a chequered history, and it is worth visiting many of the museums on several of the islands. Historical beacons, churches, fortresses, windmills and other buildings are found in several places. No less interesting is the local culture, which has survived on many tiny islands, even to the extent that Kihnu culture is recognised by UNESCO on the Representative List of the Intangible Cultural Heritage of Humanity.
Back on the mainland, Haapsalu is a picturesque seaside town that was once a resort for 19th-century Russian aristocrats. Visit the 14th-century bishop's castle, where you will find plenty going on in summer, including the White Lady Festival. Drive up to Noarootsi and learn about the Coastal Swedes.
To learn more about this and similar topics