The Importance of Tradition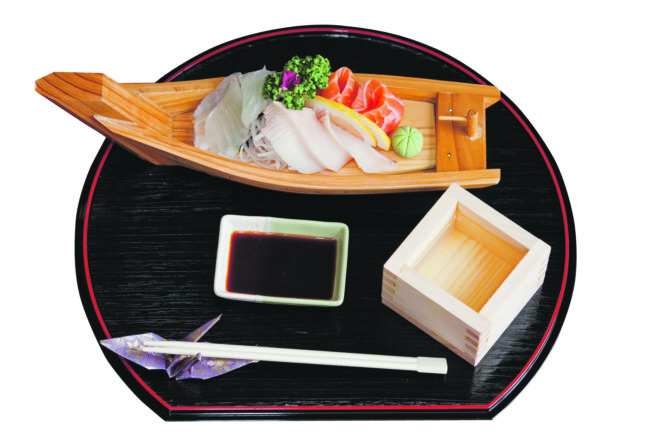 Haku restaurant brings authentic Japanese cuisine to Tallinn.
Located in an outbuilding for the summer manor house Gloy, Haku Japanese restaurant opened this spring. Shuichi and Marju Shiraishi run the restaurant together, with Shuichi in the kitchen and Marju in the front of house.
On a warm spring evening we are greeted by Shuichi and Marju as we enter Haku. The dining room is lit by the setting sun and the seat by the window looks out over a small garden. Despite the location on busy Narva mnt, the house is set back from the street and noise is minimal. Japanese music plays in the background.
The menu is short, offering a selection of hot and cold appetisers, the chef's choice of sushi and sashimi, main dishes, and dessert. We start with a selection of sashimi. The fish is expertly sliced and of excellent quality. The salmon melts on the tongue. And the soy sauce is house-brewed. Of the warm appetisers we decided to try the crispy chicken and the stuffed chicken wings. The former is delicate and crispy, served with ginger-garlic soy sauce and a lemon wedge. The chicken wings are rich and flavourful, stuffed with minced pork, and quite filling. For the main course, we share the Unagi Don or grilled eel in a sweet soy marinade. It's served over a bed of steamed rice. Marju brings us a little bit of extra sauce as well, which is certainly not wasted.
Shuichi began his cooking career at a young age, working in traditional Japanese restaurants while finishing school. He has a rich culinary background, having worked as the head chef at the Japanese Embassies in both Fiji and Russia. He has also worked in many top international restaurants, including the Michelin starred restaurant Bulgari in Tokyo. Shuichi has extensive catering experience as well, having catered to Hollywood stars in Australia.
Haku is the kind of restaurant that leaves you feeling happy after a great meal. It also makes you want to come back and try more items off the menu. 
Location
Haku, Narva mnt 55a, Tallinn
haku.ee

Click on the address to see the location.
TEXT KRISTINA LUPP, PHOTO ANDREI CHERTKOV
To learn more about this and similar topics