The groove queen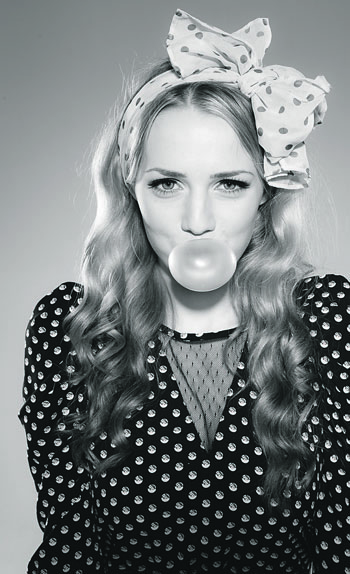 The groove queen
Who is Liis Lemsalu?
Born in Pärnu and raised in Norway, Liis Lemsalu won the Estonian Idol competition this past autumn.
Lemsalu was named best female Estonian artist last year and this spring she was voted as most beautiful.
Liis Lemsalu's debut album was released in November. The record has both songs in English and Estonian.
Lemsalu's music is a little bit of R&B, soul, and acid jazz all in one.
A recent high school graduate, Liis Lemsalu can be proud to add herself to the list of Estonian Idol (Eesti otsib superstaari) winners. Growing up in Norway, she began her singing career at an early age in the Norwegian choir. Lemsalu's first album was released last winter. The first single, Shining Star was played on the radio quite a bit. The song is pure R&B and has a very international sound. But this is no coincidence, the lyrics were written by Niara Scarlett and the music by Ellet T. and Kyösti Salokorpi from Finland.
The second single, Wanna Get Down truly showcases her talent. Lemsalu sings this Stevie Wonder hit flawlessly and is perhaps the best song on the album. She reinvents this retro classic with a bit of modern soul.
This past spring, Lemsalu took part in the Estonian Eurovision song contest with her song, Made Up My Mind. The acid jazz feel of this song is reminiscent of early Jamiroquai. But it will have to remain a mystery as to how the song would have done in the Eurovision finals. Lemsalu has paired up with Rene Puura and shows that the young singers' talents are visible in duets as well as covers.
"Täitugu soovid" is one of the record's two Estonian songs. Lemsalu's sound resonates perhaps even stronger in Estonian. Liis Lemsalu can be considered one of Estonia's top live performers. She tours with her band that is known to sometimes break into jams on stage.
The Baltic Guide liked the album and we look forward to hearing much more from Ms. Lemsalu in the near future.
TEXT MIKKO VIRTA, PHOTOS ANDREI CHERKOV, UNIVERSAL MUSIC
To learn more about this and similar topics