The Good Old Days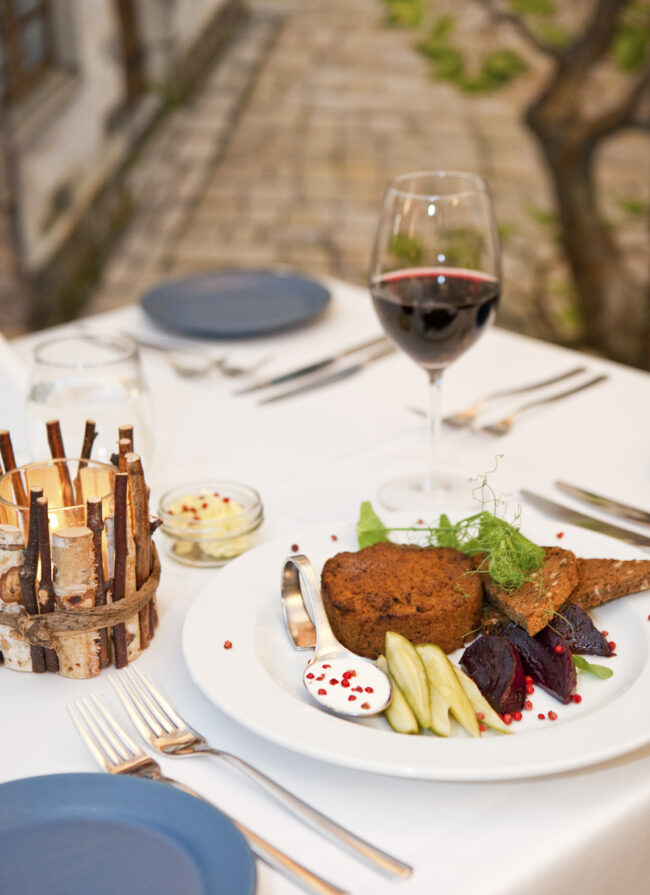 Interwar nostalgia at Wana Wiipuri restaurant.
At first glance the Russian and Karjala themed restaurant seems a little out of left field, but the two places have more in common than you might think. Both saw much change between the two world wars.
Wana Wiipuri looks at the better times. Located in the Old Town in a cellar on Pikk street, the medieval interior is well-suited to the restaurant's theme. The music playing in the background is old Finnish dance music.
When you first sit down, everyone is offered a shot of house schnapps. It's a great way to start the evening, thoughnot everyone has to. The menu of course matches the theme. The menu has one vegetarian option called Vege. It is tasty and composed of different textures, marinated vegetables, cheese, and baked beetroot. It is big enough to be a main course.
We also tried the onion soup and vorschmack, which were particularly good. For the main course, we ate beef tartar and fried cod. The tartar was served in a classical way and the taste was good. The cod was served on a bed of rice with salad and tartare sauce, as well as a few slices of lemon. The fish was cooked well and the entire dish was a simple favourite.
The wine list has ample selection to go with any dish and any taste. We had a bottle of Ogier Cotes du Rhone (€29) and it went well with all of our dishes. The wine list had many other choices ranging from €27-€45. The service was good and the atmosphere relaxed. It's a great place to spend a cold winter's evening and warm up.
Location
Restoran Wana Wiipuri, Pikk 33, Tallinn Old Town
http://www.wanawiipuri.ee/

Click on the address to see the location
TEXT JUKKA ARPONEN, PHOTO ANDREI CHERTKOV
To learn more about this and similar topics