The black sheep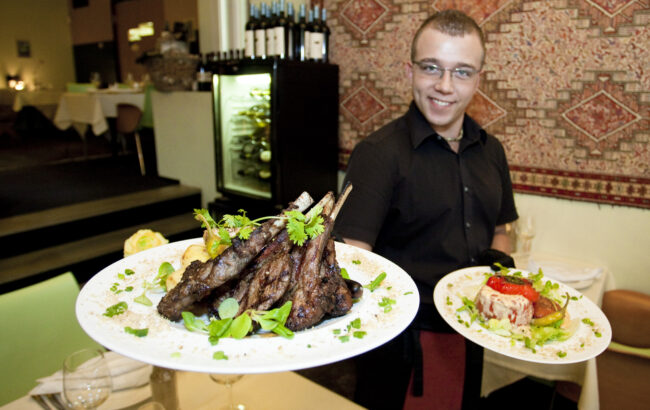 The black sheep
Tucked away on the tiny street called Sauna, is the restaurant Must Lammas (or black sheep). If you want to try Georgian cuisine, then there are many traditional dishes to choose from as appetisers. Most of them are vegetarian dishes, and there is sure to be something for every taste.
At the beginning of the meal, freshly toasted bread was brought to the table with some garlic flavoured cream cheese. But be careful, this generous serving is easy to fill up on!
Many of the main courses are meat-based, but for a vegetarian main course you can try the stuffed red pepper with cheese sauce. It also came with some roasted garlic on the side. The portion is filling and costs 9,20€.
We tried the khorovats, or lamb cutlets (19,90€). The tender pieces of lamb were grilled to perfection. The portion of 4 chops seemed quite large, yet it was just the right amount (if you didn't fill up too much on the bread at the beginning of the meal). This dish was certainly good value for money; the portion was large and could have been enough for two people to share with appetisers.
The house wine is the Grand Noir Cabernet Shiraz, and a bottle costs 21,90€.
The biggest change from the previous restaurant would have to be the price, because the quality hasn't suffered at all. The main courses we tried were priced between 15-18€. The interior of Nevskij is stylish and elegant. Every month the Must Lammas restaurant offers a threecourse menu for 9€.
Location
Must Lammas Sauna 2, Tallinn Old Town
TEXT MIKKO SAVIKKO, PHOTOS ANDREI CHERTKOV
To learn more about this and similar topics