14.1.2014 | Määratlemata @en
Tallinn's Hidden Secrets Revealed!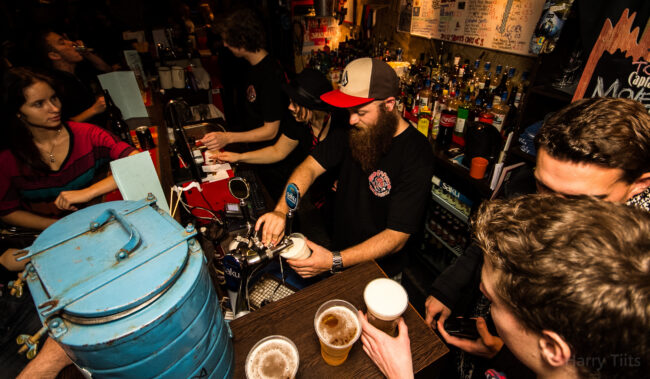 If you are tired of the big and over-crowded clubs and don't want to get robbed by overrated tourist traps, then it's time to try something new. Here is a list of places that have a unique interior and a different crowdinteresting discussions and new friends are guaranteed!
■ RED EMPEROR BAR
Red Emperor Bar is another bar that shares a house with a hostel. It is definitely a very popular place among foreigners and young people – especially backpackers. From time to time theme parties will take place; you can play beer pong and giant Jenga. Also, there are karaoke nights, open-mic nights,quiz nights and ladies nights, so there is always something going on. On the weekend it will be absolutely packed so if you dig some privacy then it's not the best choice, but if you want to meet some interesting people from all around the world then it's definitely the place to go!
■ TRAVELLER'S PUB
The Traveller's Pub is located away from the Old Town, and could easily go unnoticed because of its location. The pub is a favourite for adventurous travellers. Even the atmosphere has a global theme – globes on tables and maps on walls. There is a television upstairs where visitors can share their most memorable travel videos and pictures with all guests in the bar. The food is delicious and the menu changes often. The Traveller's Pub is one of the most interesting pubs in Tallinn – come and share your most exciting travel experiences or just listen to someone else's stories!
■ THE KURESSAARE STANDARD LOUNGE
The Kuressaare Standard Lounge is a well-hidden little secret bar in Tallinn that is built in an old house and has his own unique retro style atmosphere. The bar is open only at weekends and shares the same building with a hostel, so if you feel too tired to go home, you could easily rent a room. From time to time "Coyote Ugly" theme parties take place where beautiful Estonian girls will show their best dance moves. It has a perfect location next to all big clubs and pubs so it is an ideal place for warming up before heading to clubs or summing up the night's adventures. The drink menu is not very long but it's a cool place without trying too hard. Sauna 1, Tallinn Old Town
■ SHIMO LOUNGE
Shimo Lounge is built in an old cellar and is a classical looking pub. You can eat delicious food and choose between a large selection of beers. The prices are reasonable and the atmosphere is cosy with a fireplace in the corner. DJs will be playing various music for every taste and the staff is really friendly and nice. Shimo Lounge will always surprise you as the crowd and atmosphere changes with every night. It is definitely a place worth checking out, as you will never know what to expect. The bar is changing its location in January so be sure to keep an eye on that!
■ TOPS
Tops is an underground place away from the Old Town. The food menu isn't as long as the drink menu but it's quite cheap and won't leave you hungry. There are many different events like movie nights, theme nights and live music. On the weekends, it can get busy. The interior is decorated in soviet style and will leave a good impression about old times in Estonia. If you want to experience the nostalgia that is so familiar to most Estonians, you should check Tops out!
■ KODU BAAR
Kodu Baar is an interesting bar with mismatching furniture and a popular place among young artsy people. The bar's prices are low so it is perfect for saving a little money after Christmas. "Kodu" means "home" in English– seating is comfortable and music is kept at a reasonable volume. It's good for chilling and making plans for the rest of the night. Take your friends and gather around in a big living room for a nice little get together.
To learn more about this and similar topics