Tallinn's Favourite Mani-Pedis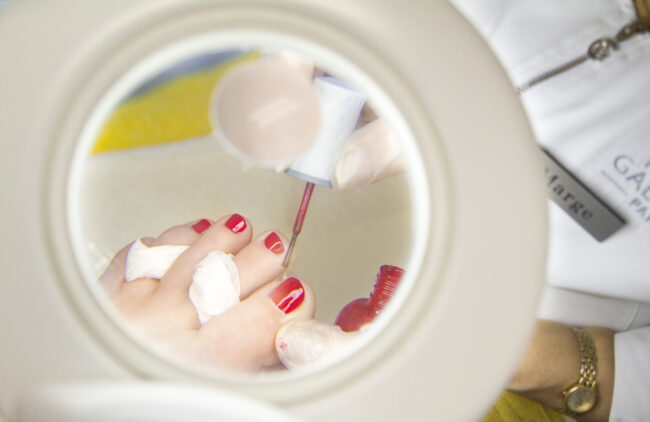 Classic red is still a top choice for your toes.
We asked Tallinn locals and expats what their favourite nail salons were and here's what they said.
Everyone knows that prices in Tallinn are relatively cheap when compared to Scandinavia and Finland, and the same goes for manicures and pedicures. Estonia's capital has top-quality service, and all the brand name products you are used to at home, if you know where to go. Local Tallinn ladies were happy to share their favourite salons, both for price and for quality with our readers.
The Nail Spa uses both Opi and ProNail products. ProNail is a well-trusted European brand, and offers both classic and gel polishes. While the classic manicure does take a bit longer, you can enjoy a hand soak, exfoliation, and massage. Then, choose from a selection of classic and modern colours for your polish. Classic manicures start at €12 (Quick manicure), gel manicures start at €23, classic pedicures start at €28, and gel pedicures start at €35.
The i3 Viru Ilusalong inside the Viru Hotel offers a pedicure for problematic feet. While a little bit more expensive then the rest (€55, 1.5 hours), if you have dry or cracked skin, ingrown nails, calluses, or warts, this is the pedicure for you. It's a great way to get your feet back in shape before the summer season. "It is important that people not feel embarrassed to come in," says Marge, pedicure technician, after telling me about a woman that had trimmed her toenails before coming to the salon. "When you come in, we treat your problems, and tell you how to care for your feet at home."
■ Ilusalong Gersi Stiilistuudio
Gersi Stiilistuudio also offers manicures and pedicures. Gel nails have grown in popularity over the past few years because of their durability. At Gersi, they use Bio Sculpture Gel, a gel that has been tried, tested, and voted at the top of its category in magazines like Scratch. Bio Sculpture Gel contains the same vitamins and minerals found in your nails. Instead of simply putting a layer of polish on your nail that will inevitably scratch and chip with daily activity, Bio Sculpture Gel moves with your nail, meaning that it will stay on your nail longer. Gel manicures start at €39. 
Other local favourites:
Pikk 40, Tallinn Old Town . Manicures starting at €20; Pedicures starting at €29.
Tartu mnt 28, Tallinn B3. Manicures starting at €25; Pedicures starting at €28.
A. Lauteri 5, Tallinn. Manicures starting at €10; Pedicures starting at €23.
TEXT KRISTINA LUPP, PHOTOS ANDREI CHERTKOV
To learn more about this and similar topics