Tallinn Music Week enthrals and surprises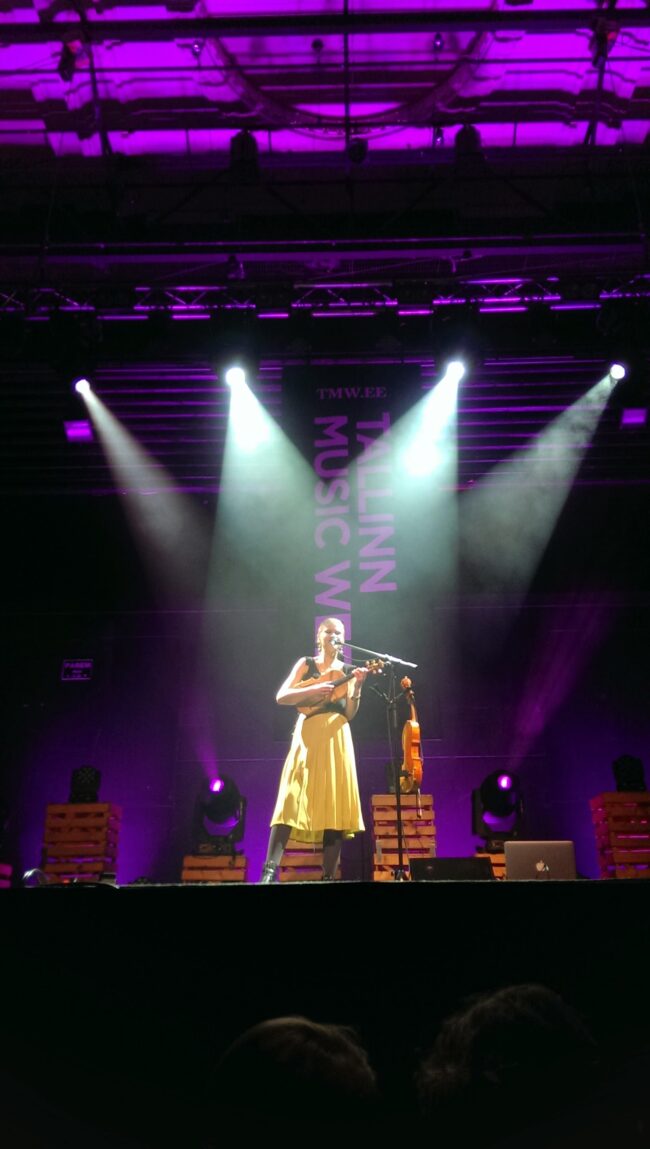 Friday 28 March
Tallinn Music Week, as always, enthralled and surprised, bringing new and established sounds to an excited and passionate audience. Austin, Texas has the South-by-Southwest (SXSW) conference-cum-festival, and TMW follows that successful format. Friday night was a chance to hear every kind of jazz sound, at the Jazzkaar showcase at Teater No.99. Carrot Lights, the project begun by former Eurovision contestant Laura Remmel (formerly Põldvere) and coursemates from the Estonian Music Academy, have been playing together as a trio for eighteen months. Their debut gig in the Academy's auditorium had shown vision and promise, and it was striking how much the group have moved on since then. The free-jazz songs sounded far tighter than they hitherto had – the musicians, Laura, her husband Joel-Rasmus Remmel, and Kasper Kalluste had true chemistry.
In an example of how this kind of music showcase always brings a surprise, I was stopped in my tracks by Heavy Duty, a band that, when I was studying the bill, I would never have picked to see. But they were astonishingly good. Looking like a kind of jazznik Status Quo, they turned out to have as many fresh ideas as anyone – the musicians seemed hugely accomplished, and the sound rocked in a way that I was unaware jazz could. The tenor saxophone in particular added a gravitas to the music that was enormously affecting.
Next up was a trip to Rock Cafe, up the hill along Tartu mnt. The Sky FM pop showcase was in full flow – one of the highlights were Elina Born's combination of catchy bubblegum pop with a powerful delivery (and a superb band, led by Traffic and Outloudz's Stig Rasta). Elina has been a star for a number of years now, having graduated from Eesti Superstar and gone on to take part in Eesti Laul 2013. She was previewing songs from her forthcoming album, including the recent hit "Miss Calculation", and the audience seemed to enjoy it. It's good not to take life seriously sometimes, and pop should be fun – it was a bright, friendly performance.
Põhja-Tallinn closed the show in the small hours of Saturday morning, their infectious brand of Estonian rap having evolved from their angry early demos into radio-friendly Black Eyed Peas-style pop-rap. Perhaps the evolution reflects a wish to sell more records, or perhaps it reflects a fundamental change in the circumstances of the groups's members, but it seems from audience feedback that the lyrics no longer reflect the concerns of the audience in the way it once did, though there is endless singalong value in a hit like "Meel on Aega Veel". The true stars of Friday night at Rock Cafe came earlier, and reflected the fact that Tallinn Music Week is not just a showcase for Estonian talent. Instrumenti, the electronic-pop introverts from Riga, found that even a crowd full of Saku-drinkers could appreciate the subtle bleeps and blips of their operatic anthems, which seemed to come from a similar place to David Bowie's "Scary Monsters"-era music. They showed their classical training, running through a setlist of technically-challenging songs that require concentration – but the surprise was that they got it, and they got the loudest applause of the night, in what was a triumph and will hopefully see this group, already successful, consolidate their strong support in Estonia and reach a new audience.
Maarja Nuut promised a new element to her act. She brought that and more – including a new instrument, which was named after her and built by her boyfriend. The folk reels and polkas sounded just as fresh as they did the first time I heard them, at TMW 2013 – but the loops and harmonies seemed to bring a fuller feel, and it was clear a lot of work had gone into her one-woman wall of sound that wowed Teater No.99 on Saturday. Maarja is touring Switzerland and Hungary at the moment, and deserves all the recognition and success she is getting.
Later in No.99, Sandra Sillamaa and Trad.Attack made substantial music that truly rocked, even employing Who-style power-chords in places where I would not have expected to hear them. Curly Strings, which, like Trad.Attack, boasted the guitar and vocal talents of Setod's Jalmar Vabarna, made sure everyone knew they were having a whale of a time on stage – the pace never let up, and the atmosphere was infectious.
Wilhelm, on Saturday night in Soprus Kino, provided a personal highlight of TMW, gelling the Mumford & Sons indie-folk style with some very Estonian retro-hipsterism. Their music sounded like it could only have been made in Estonia, probably by a group that heard plenty of Fairport Convention growing up. They're best-known for the lyrically-opaque "Resignal" from Eesti Laul, but honestly, their repertoire was so much better than that, and will get a much wider audience in the next year or two, because these young Estonians are not going to disappear. The harmonies of the two female singers, along with the beautifully-controlled drumming and mandolin playing, stood out, although the whole sound carried you away on a wave.
Text: Stuart Garlick
Photos: Stuart Garlick
Stuart Garlick is an English ex-pat living and working in Tallinn. His blog Charm Offensive talks about culture (music, food, etc.) in Estonia. Stuart is also a regular contributor to The Baltic Guide in English.
To learn more about this and similar topics