Tallinn Maritime Days this weekend
Text Timo Huttunen
Photo Andrei Chertkov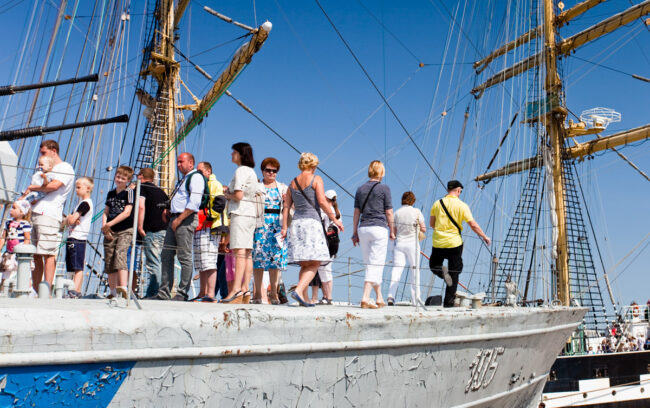 Tallinn's annual Maritime Days will take place this weekend, August 25 and 28. The event offers a program for the whole family that includes free concerts, food, access to ships, cruises in the bay of Tallinn, and sea taxis between the different ports of Tallinn where the events will be taking place.
Ships from all over the world will arrive in the capital of Estonia. You can admire the ships and even cruise on them in the bay of Tallinn. A sea taxi will also operate between the ports of Tallinn. All ports have children's areas and shopping streets. In addition, guests are offered concerts and many food and drink options.
The flagship of this year's Maritime Days is the Polish ship Baltic Beauty, which will stay overnight in Noblessner harbour. The wonderful historic Estonian sailing ships Moonland, Hiiu Ingel and Lisette will return again this year. The sailing ship Alexandra will also come from Finland to the event.
The two-masted Baltic Beauty and other ships arriving at the festival will make several paid cruises in the Gulf of Tallinn.
"All performances and concerts of Tallinn Maritime Days are free for visitors, but sea trips and cruises are subject to a fee. This is understandable, because the movement of large ships at sea is not cheap," said Kristjan Saar, the leader of Tallinn Maritime Days' organizing group.
"Together with the organizers and ship owners, we have tried to keep the prices of the cruises as low as possible," added Saar.
Cruise prices start at ten euros. The cheapest way to get onto the sea is by sea taxi, which transports festival guests for five euros between the different ports in Tallinn.
Tallinn Maritime Days are the highlight of Estonia's summer and the country's biggest sea and family event. Tens of thousands of people visit the event every year.
You can find the full details of the Maritime Days program here.
To learn more about this and similar topicsBaltic Beauty Concert Maritime Days Maritime Days 2022 Noblessner Harbour Sea Taxi Tallinn Maritime Days