Sun care for your hair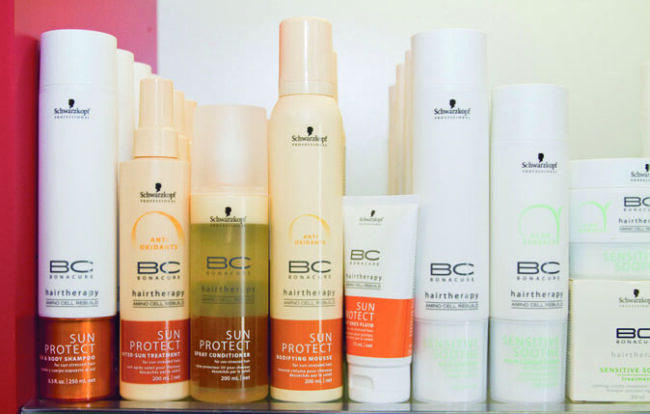 Sun care for your hair
These rays can also cause permanent damage to the outside protective layer of the hair cuticle and then continue into the centre to damage the cortex.
There are many products out there but how do you know which ones to choose? The shampoos and conditioners are a good preventative measure, products that are leave-in are also beneficial because they sit and coat the cuticle.
L'Oreal Solar Sublime After-sun Protect Shampoo (11€ 250mL) is for use after sun exposure to nourish and repair the hair from the sun, as well as the sea, and chlorine. The After-sun Nourishing Balm (15.80€ 200 mL) should be left in for 2-3 minutes as a hair mask to bring back softness and shine.
Schwarzkopf Bonacure Hair Therapy Sun Protect Soft Ends Fluid (10.86€ 75mL) is a leave-in product for the tips of your hair.It stays in hair to leave the ends looking soft and shiny.
Goldwell's Sun Reflects Aftersun Hair and Body Shampoo (9.60€ 250mL) has a lovely fresh scent, is nourishing for both your hair and body, and helps restore moisture.
All products are available from Hairmail in Tallinn.
Estonian Sun Cream
Estonia is a northern country, but the sun can still be harsh. The Solar Sun Creams are made in Estonia and protect your skin from harmful UVA and UVB rays. The Solar range of products has something for every skin type. The UVA and UVB filters help protect the skin from sunburns and aid in preventing premature ageing of the skin. Solar offers sun creams with SPF 4, 6, 8, 15, 25, and 30. Some are waterproof, and one even contains an insect repellent.
Sun milks, come in a spray form with SPF 4, 10, and 20 for children. The spray is less messy to apply, and can feel less heavy than a cream. After sun exposure, try the Solar after-sun cream or spray to moisturise the skin.
Available at various pharmacies across Estonia.
TEXT: KRISTINA LUPP, PHOTOS: ANDREI CHERTKOV
To learn more about this and similar topics