Summer in the City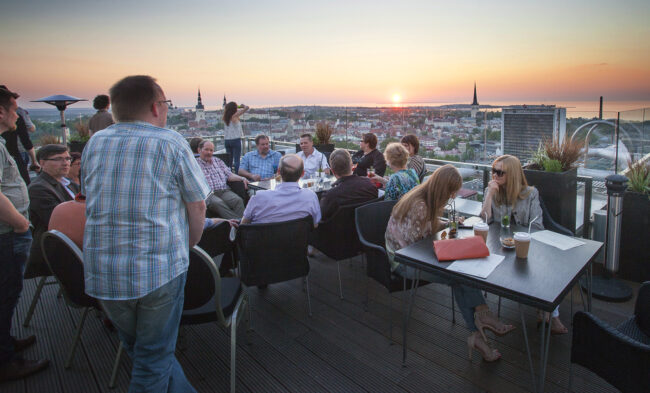 If you're coming to Tallinn in June, the chances are you're coming to enjoy the Estonian summer. What ways are there of getting out there and taking in the warm sea breeze, while sipping an evening gin and tonic or dancing the night away? I've picked out several options that take you from the most luxurious of surroundings, to the most unassuming but beautiful of curiosities. Let's journey into the summer, however long it lasts.
You can go to any of these places in any order, but we begin with the Radisson Blu Sky Bar, or Lounge 24 as it is officially known (Rävala Pst. 3, Tallinn). Yes, you've probably been to the similar one in Riga, but what differentiates this one from the other is that you can actually stand outside, taking in the air of the city and looking up and down the coastline for landmarks like the TV Tower, the war monument, and Lasnamäe's new Orthodox Church, or looking to the Old Town and the protruding spire of St. Olav's Church for inspiration for your evening. The service is as excellent as you'd expect from a Radisson Blu hotel, and if you get cold, there are great views inside the lounge too. The bar offers a considerable selection of wines, and while all of the choices are pricey, there really is nowhere better to impress someone new to the capital.
But what about if you're only spending one night in Tallinn, and you want to remain close to the port area? Somewhere, there's a place for you. Sadama Suveterrass, or Harbour Summer Lounge (Sadama 6/8, above the market, Tallinn), has been running for many years, and although it is situated on top of one of the least lovely buildings of the workmanlike port district, the cafe has great views all around the city. In summer, burgers and other barbeque food are grilled well, there is a selection of drinks, and some of Tallinn's coolest people come to this terrace as a hipper alternative to the long-running society parties on top of Kohvik Komeet. If you're willing to compromise the appearance of your surroundings for a great night out, Sadama Suveterrass might just be what you need.
Head to the town of Viimsi, attached to Tallinn by the local bus service, and you'll reach RootSu Rannabaar or Roots Beach Bar (Kesk Tee 20, Haabneeme). This seaside paradise, attached to RootS Restaurant, is open every summer and has proved a massive hit, offering a series of themed parties throughout the season. Although it brings in a lot of enthusiastic young locals, Roots isn't just for them – in fact, the bar, with its grill, cocktails, good times and spectacular sea view, is one of the best places at which to party the night away. The atmosphere is always convivial and social, and the frequent themed musical parties, which have included a reggae band, make you feel like you're in paradise.
For the kind of beach party you'll never want to forget, you can go to a clean-cut, commercial and very fun enterprise like Roots, or you can head to the other side of the coast, and to Kalamaja, where the hulking Patarei Prison (Kalaranna 2) is situated. A party in a prison? Well, yes. Each year, resourceful young people hold parties on the small strip of beach behind the former maximum-security jail. You can enjoy a game of football or rugby with a picnic, while watching the white nights continue. At the many and frequent parties held there (for information on which we suggest you check Facebook public events for the Tallinn area, as well as asking the local Couchsurfing group), the people are fun and down-to-earth, the music might be mostly that of an acoustic guitar, but it's a lot better than being assaulted by "Wonderwall" all night, and you might even be able to sit down and talk in a big tepee. For certain, this isn't a conventional night out – but it's all the more enjoyable for it.
Click on the address to see the location.
TEXT STUART GARLICK, PHOTOS ANDREI CHERTKOV
Stuart Garlick is a journalist and English language teacher based in Tallinn. Since 2012, his blog, Charm Offensive, has covered food, music and fashion in Estonia.
To learn more about this and similar topics