SUMMER IN THE CITY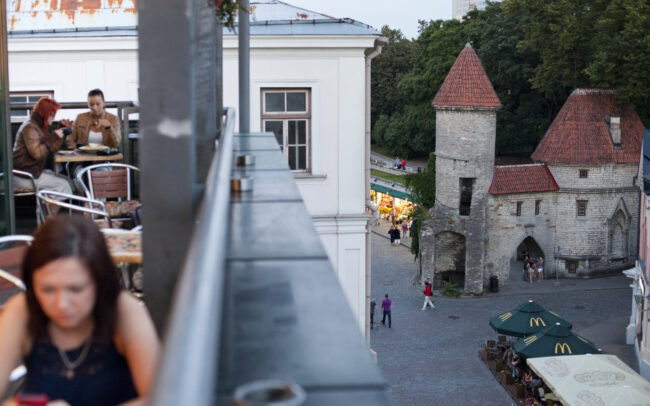 Tallinn is quite quiet in the summer, thanks to the number of Estonians who make a beeline for the countryside, but that means the capital is perfect for discovery by tourists. We've got plenty of tips to make your time in Tallinn a great one, and indeed there are many intriguing venues you can try that will be happy to see you. We've chosen two oft-overlooked gems, and a new night venue that should get your attention.
https://www.facebook.com/tubakas
Koht, meaning "place", is one of those hidden nightspots the locals won't tell you about, because it's their little secret. But you ought to find out about it for yourself, because it's amazing. The little bar, set into an old stone house on the Old Town's Lai street, has several rooms, a main bar room linked to two cavernous function rooms.
Resolutely anti-corporate, the bar even resists branding, with some younger locals referring to Koht as "Moonshine" – indeed, the naming convention depends on who you are talking to. The landlady is legendary, as is the welcome you will receive from the many people who have made this their home-from-home.
Should it get too warm inside, or should there be no more perches on which to rest your weary feet, there is a compact yard outside, with hanging baskets and a feeling of being in the Old Town, but far from the madding crowd. The best thing, though, is the selection of beer – everything from local brew to Belgian clas- sics can be found here. Make sure you pay a visit.
Katuse Kohvik, or Rooftop Cafe, is a place that often gets ignored, unfairly, as it is great for a party at night. To get to the bar, you need to go down into the lift of a shopping precinct, then go up to the fourth floor. When there, you will see that this is a hidden paradise.What's good about Katuse Kohvik? It has the trappings of a luxury lounge, with two patios on which it is possible to smoke, it has a ready supply of water pipes and flavoured tobacco, but it also has long, long sofas where you can drape yourself after a tough day at the office. Also, the dedicated staff actually know how to make a good mojito.
There aren't many genuine chillout venues in Tallinn that serve the purpose well, but Katuse Kohvik has been doing it for years, and continues to do a great job, especially after a renovation that brought it up to the high interior standards of bars all over the Old Town. I have never been ashamed to bring anyone, whether family or friends, to this place.
For reasons owing to the cultural makeup of Tallinn city, Katuse Kohvik attracts many ethnic-Russian customers, however you shouldn't worry about fitting in, as anything goes here, the staff are lively and friendly, and you will have a great time.
https://www.facebook.com/pages/PADA/1435314693450208
The former Kultuuri Katla Aed has been transformed into PADA, a very similar venue, but given a fresh green lick of paint and a new approach. When under its previous management, the garden seemed to have a rebellious edge, with the buildings little changed from the factory outhouses they had been. Now, however, the atmosphere is a lot more corporate and sanitised, which might actually suit some people who found the old style to be overly hipster. However, the bar, which still charges heavily for drinks, seems to have lost some of its previous charm with the hot tub that no longer sits in the corner. Nevertheless, there is a lot of enjoyment to be had here, not least in the outdoor terrace, which features a large timber-framed dancefloor. Guest DJs are almost always brilliant at this bar, seeming to understand the customers perfectly.
If you want an outdoor party at a place that is clean, positive and happy, then PADA is definitely a place you should consider.
Click on the address to see the location 
To learn more about this and similar topics