Summer Gig Guide 2017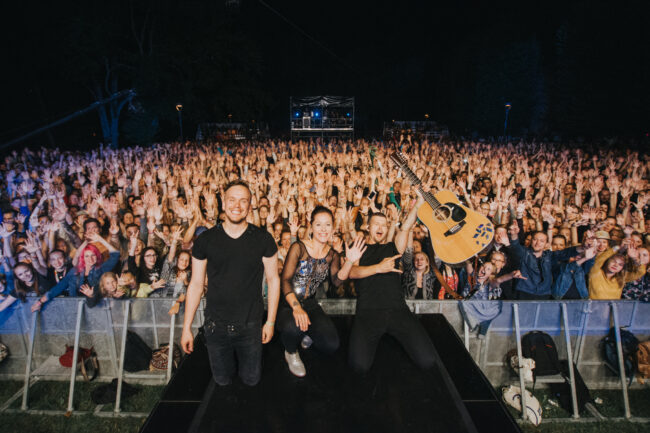 There are many reasons to be excited about the schedule of concerts and performances around Estonia this summer. That's because the biggest local stars are all out on summer tours, along with a smattering of international names to make your calendar sing.
Eurovision is still taken as seriously as ever by Estonia – and with good reason, because this year Koit Toome and Laura made up a duet dream team that might not have stunned the public in Kiev, but did pick up plaudits for their song, 'Verona', based around the Shakespeare play Romeo and Juliet. Now, Koit and Laura are touring the nation with their Verona tour, taking in Kuressaare, Palmse Manor, Tartu, Viimsi, Kadriorg Park in Tallinn, and many other venues of all sizes, between 10 and 30 July.
Koit Toome is a busy man, because as well as his tour with Laura, the Estonian singing star is on his own solo tribute to 1970s and '80s rock icon Jaak Joala, Suveöö or Summer Nights. Beginning in June, Toome's tour takes him to all four corners of Estonia, ending at Alatskivi Castle on 24 August.
Should your Eurovision musical tastes be more retro, there's another chance to see the ubiquitous Dave Benton, the Aruba native having settled in Estonia in the 1990s, forming a one-off partnership with the young Tanel Padar in 2001 that brought Estonia, and the world, 'Everybody', the song that won Eurovision, took the hearts of many, and encouraged us all to roll the carpet from the floor. Benton regularly hosts a Christmas show, but for those keen to get some summer entertainment with this national treasure, he's on tour with his Parimad Laulud (Favourite Songs) from 1-11 August.
Sticking with the loose Eurovision theme, Lenna Kuurmaa was once part of Vanilla Ninja, the epochal Estonian girl band that still has the best-selling ice cream in Estonia as official merchandise and in spite of all members being Estonian, represented Switzerland at Eurovision. Lenna, having released 'Slingshot' for Eesti Laul 2017 (the Eurovision selection contest), is now gearing up for what we all hope will be a new album soon. Lenna, who has one of the sweetest voices in Estonian pop, is backed up by the supergroup Estonian Voices, featuring, among a cast that gives classic songs an a capella twist, the excellent jazz vocalist Kadri Voorand. Catch Lenna and Estonian voices from 2-10 July.
Liisi Koikson is another icon of recent Estonian music who is doing something brand new, in her case, the new album 'Coffee for One', which is a departure from her previous work, which was mostly in the smooth jazz category, into more pop-oriented territory, as evidenced by recent single 'Procrastination Queen'. It's a sign of the increased confidence Koikson feels in her craft having studied in London at the Tech Music School – and for visitors to Tartu for Muusikasuvi, on 3 August, there's a chance to sample Koikson's new sound.
Jaan Tätte was described by author Justin Petrone as being "Estonia's version of a Renaissance man," and the folk legend with the booming bass voice is back on the road again, as he is every summer, this time with long-time collaborator Jaan Pehk, a big man with the voice of an angel. The two are a great team and tickets are sure to sell out, so book early to avoid disappointment. They play various venues from 20 July to 3 August.
Trad.Attack! are one of the most feted and critically-acclaimed bands in Estonia, and have been an international success story thanks to the three band members' globe-trotting philosophy, which has seen the folk-electro trio win friends and fans in China recently, among many territories. The band takes archive samples of folk chants and turns them into something mystic, dreamlike, but still danceable, quite a gift in itself, but they've also shown themselves not to be one-trick ponies with their new album 'Kullakarva' (Shimmer Gold), which is a musical step on from the easily-memorable power chords of their first album. Catch Trad.Attack! on 26 August, when they close their short Estonian tour in Treski. 
All tickets for these concerts can be purchased on Piletilevi.
TEXT STUART GARLICK, PHOTO SILVER TÕNISSON
To learn more about this and similar topicsgig Jaan Pehk Jaan Tätte Kadri Voorand Koit Toome Liisi Koikson music Trad.Attack!