STEPPING OUTSIDE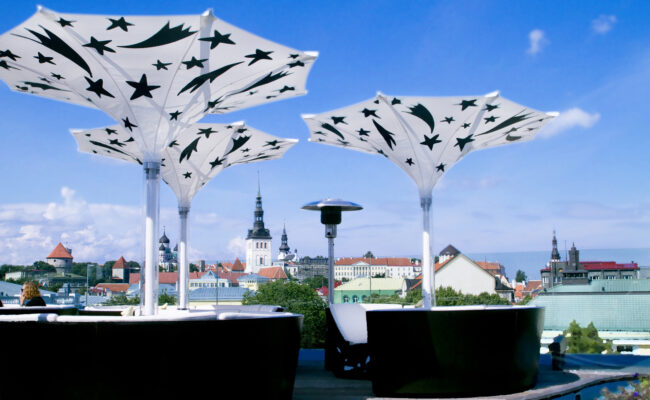 STEPPING OUTSIDE
The Baltic Guide decided to visit some of the patios of Tallinn to give you some suggestions as to where to rest your feet during or after a long day of sightseeing.
Town Hall Square (Raekoja Plats) It just would not be trip to Tallinn without a drink or a meal on one of the many patios in the Town Hall Square. We're not going to lie. This is the most tourist-filled place in Tallinn, and prices will be slightly higher than in other restaurants and cafés, but there is a reason for this. The setting is exquisite. During the summer, a stage is often set-up for various concerts, as well as a market.
For a glass of wine or a coffee: Rae Restoran & Café: A nice central patio near the pharmacy, which faces the Town Hall. Sip a decent coffee during the day, or a good glass of wine in the evening. Raekoja Plats 10. Old Town Map Code H2.
Wine Library: As the name suggests, it's a wine bar, but main dishes and light meals are also served. Enjoy the view of the square with a nice glass of wine. Raekoja Plats 8. Old Town Map Code H1.
For local food:
Liisu Juures: Both in summer and in winter this is a great place for Estonian food. In the summer, the restaurant has a small patio outside on the square. Raekoja Plats 13. Old Town Map Code H2.
Troika: Enjoy the large patio at Troika, but if a concert is taking place, then the stage is usually set up right in front. Not the best view. Nevertheless, try a selection of Russian favourites, including a variety of dumplings. Raekoja Plats 15. Old Town Map Code H2.
Old Town, but not on the Square Hotel Telegraaf: This summer terrace is perhaps one of the most tranquil in the Old Town. It's located less than a minute walk from the Town Hall Square along Apteegi, in a secluded courtyard. Enjoy excellent food, excellent service, and relaxing live music. Vene 9. Old Town Map Code H2.
Cru: Recently opened, it is finally warm enough to start enjoying their beautiful patio and courtyard. The courtyard located on the side of the restaurant is peaceful, so peaceful in fact, that you forget that you are on the main street in Tallinn's Old Town. Viru 8. Old Town Map Code H2.
Luscher & Matiesen: This is an old wine company originally founded in 1910. In the summer they open a terrace almost overlooking Tallinn in the upper part of the Old Town. They serve both a French white and a Spanish Red under their label, as well as small snack menu. Cash only. Kohtu 12. Tallinn Map Code A2.
Leib Resto & Aed: Good food, good wine, secluded lush green courtyard…what more could you ask for. Located in the old Scottish Club, this is a great place to come for lunch or dinner. Bookings are a must. Uus 31. Old Town Map Code F3.
Chakra: If you are craving some spice visit Chakra for some wonderful Indian food. The courtyard patio is in the back of the restau- Enjoy a warm summer evening at Komeet Café. rant and is situated off a quiet old town street, making this a great place to relax with friends. Bremeni käik 1. Old Town Map Code G3.
On the roof:
Danneborg: While this café is not on a roof per say, it's still worth a mention because of its peculiar location. Over-looking Tallinn's Old Town from inside the city wall, enjoy a quiet drink. If you manage to make it up the treacherous stairs, you've certainly earned it. Lühike jalg 9a. Old Town Map Code I1.
Kohvik Komeet: The cakes at this café are divine, as are the cocktails. The quirky round booths are the perfect place to enjoy a warm summer evening. Estonia Puiestee 9, Solaris Centre 4th floor. Tallinn Map Code B2.
Lounge 24: On the roof of the Radisson Blu Hotel Tallinn, is the highest open-air patio you are going to find. Enjoy good food, great cocktails, and an even better view. Ravala Puiestee 3. Tallinn Map Code B3.
TEXT: KRISTINA LUPP, PHOTOS: ANDREI CHERTKOV
To learn more about this and similar topics