Simple, yet elegant Mediterranean flavours at Neikid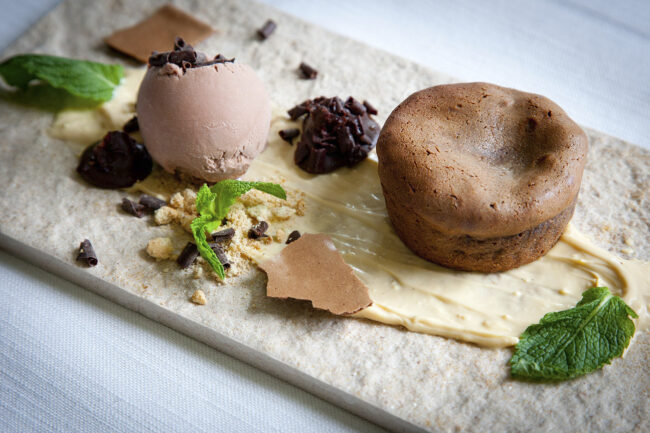 Simple, yet elegant Mediterranean flavours at Neikid
I have always been weary of on-line booking, thinking that my email goes into sea of unread messages in an inbox somewhere. Within the hour my booking had been confirmed and I had a lovely meal awaiting me at Neikid.
You've probably never heard of Neikid because it's tucked away on a small street behind Toompea, a route that you probably wouldn't take to explore the Old Town. Open for lunch and dinner, it's worth the detour.
The interior is very plain –light beige and white linens cover the chairs and tables, and orchids decorate the windows. Immediately upon entering, the professional and friendly staff is there to greet you.
The menu is not very long, but it covers all the bases. It is mainly Spanish, but some other Mediterranean influences seep through. As an appetiser we tried the foie gras with Põltsamaa Kuldne jelly (10€) and the low temperature roasted lamb (7€). The pairing of the apple wine jelly and the foie gras worked well, and gave the dish that Estonian twist. The star however was the roasted lamb, in both presentation and taste. It came served in a glass jar and when the lid was opened smoke came out. The lamb was tender, and I only wish there had been more.
Paella can be a hit or miss. We decided to take a chance on the two-person serving (18€), but to be honest I wish we had tried something else. The rice was cooked al dente and came with a generous serving of shellfish, but it was simply too salty. The server was quick to fix this and offered us coffee. I would certainly go again and try something else.
Neikid also has a great wine list with a modest selection of Old World wines and many bottles under 30€. Good food and great value for the money, I look forward to my next visit already.
Location
Neikid. Wismari 3 Tallinn
TEXT KRISTINA LUPP, PHOTOS ANDREI CHERTKOV
To learn more about this and similar topics