Shopping The Rotermann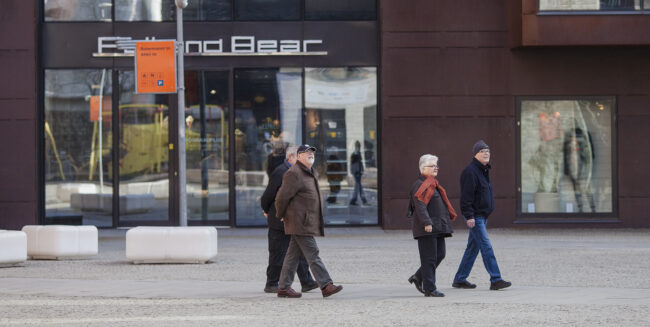 Rotermann Quarter is a grouping of old industrial buildings that have been renovated, with a few new buildings mixed in, and now stand in one of the most stylish areas of Tallinn. The area is filled with hip restaurants, trendy fashion shops, and more!
This historical neighbourhood underwent rapid development in the 19th century, and quickly became an area filled with many factories, and stores. Some of these unique buildings are still standing today. The Rotermann Salt Store, for example, was built in 1908 and was designed by the Baltic German engineer Ernst Boustedt. It has now been placed under heritage protection and currently houses the Estonian Architecture Museum.
Want to see a film? The Coca Cola Plaza is a multiplex cinema with 11 screens and is located in the Rotermann Quarter too. Most films in Estonia are screened in their original languages with Estonian and/or Russian subtitles.
Hungry? Or Thirsty?
Restaurants & Specialty Food Shops
■ Kork Wine Bar & Shop, Rotermanni 5, Tallinn
■ Restoran Platz,Roseni 7,Tallinn
■ Sushihouse,Rotermanni5/Roseni 10, Tallinn
■ Usbekistan,Rotermanni 5,Tallinn
■ Juustukuningad,Rotermanni 5,Tallinn
■ Rein Kasela Veinituba(Wine shop), Rotermanni 12, Tallinn
Shop 'till you drop!
The Rotermann Quarter is a shopper's paradise – for both brand names and Estonian design. Here's a look at some of the shops you will find:
■ 2.MOOD – This is a shop for true fashionistas. If you like brand names, but want something unknown and unique, this is the place to come.
■ A.G.A.N–Thisshopspecialises in Estonian fashion designs by young designers. You never know what you will find!
■ Bershka–Fashionforyoung people, including clothing, shoes, and accessories.
■ Guess – The well-known international fashion brand has a shop in Rotermann Quarter, selling this season's bags, shoes, clothing, and accessories.
■ Hairline–Thisistheone-stop- shopforyourhair.Findtopname, quality hair care products and accessories.
■ Kalev Chocolate Shop & Sweets Mastery – Come and try your hand at making sweets, or bring some ready-made chocolates home. Kalev is the oldest and largest sweets company in Estonia, founded in 1806 under the name Estonia.
■ Norr11–Norr11specialisesin Scandinavian design furniture and home accessories. Come in, have a browseandbeinspired.
■ Premium Fashion Outlet–Find 30-50% off this year's styles and 50-70% off last year's clothing and accessories, including items from top brands like Armani Collezioni, Ralph Lauren, Paul Smith, Tru Trussardi, Valentino, Versace Collection, Kenzo, And More!
Location
Rotermann Quarter is located in Tallinn's city centre, close to the Old Town. The area can be easily accessed by foot, car (underground parking available off of Ahtri), by bus, or by tram. Rotermann is a short walk (3-5 minutes) from the Port.
Estonian Architecture Museum, Ahtri 2, Tallinn.
Coca-Cola Plaza, Hobujaama 5, Tallinn.
TEXT KRISTINA LUPP, PHOTOS ANDREI CHERTKOV
To learn more about this and similar topics