Shopping in Tallinn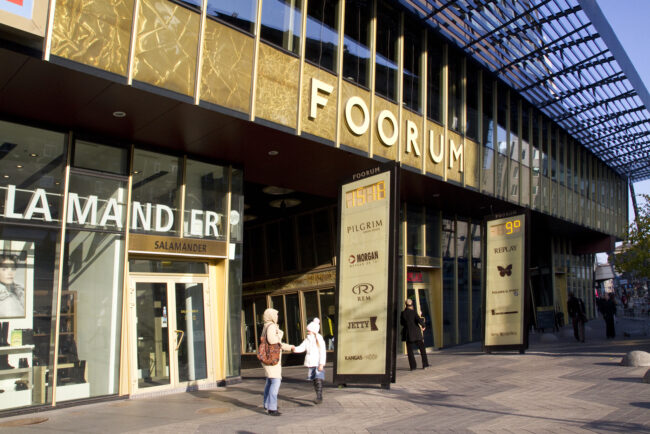 Department Stores
Stockmann, Liivalaia 53. The Tallinn branch of Finland's favourite department store.
Tallinna Kaubamaja, Gonsiori 2.
This Estonian department store has been in business since 1960 and is now attached to the Viru Shopping Centre.
Central Shopping Centres
Solaris, Estonia pst 9.
One of Tallinn's newest shopping centres that houses a cinema, numerous restaurants, as well as a top-end supermarket.
Viru Keskus, Viru Väljak 4.
Twenty years ago the site of this shopping centre was nothing but a parking lot, right beside the Hotell Viru. In 2004, it turned into a modern shopping complex with over 100 stores.
Foorum, Narva mnt 5.
Almost opposite the Viru Shopping Centre, Foorum houses a promenade of stylish boutiques.
Rotermann Centre, Rotermanni 5.
This modern shopping centre in the newly renovated Rotermanni district houses gourmet food shops, a Scandinavian furniture store, and many international clothing brands.
A bit further out
Rocca al Mare, Paldiski mnt 102. Free bus from the port.
This massive centre was completed in 1998 and resembles a large mall in North America. It is over 54,000 square metres in size and houses 170 shops – everything from food to fashion, Marks & Spencer to a children's play world.
Kristiine Keskus, Endla 45.
Free bus from the port.
A modern mall just outside of the city centre.
Sikupilli Keskus, Tartu mnt 87. Busses 2, 15 and 54 (Sossimägi), Trams 2 and 4 (Lubja).
A small shopping centre located near the airport that houses fashion outlets, a few electronics shops, and restaurants.
Mustikas keskus, A.H.Tammsaare tee 116. Trolleys 1, 2 and 3.
A shopping centre in the west end of the city.
Järve Keskus, Pärnu mnt 238. Buses 5, 18, 32, 36, 57.
This shopping centre has quite a few furniture shops, as well as a store for everything you might need for your sauna.
Ülemiste, Suur-Sõjamäe 4.
Buses 2, 7, 15, 65.
Located close to the airport, this two-level shopping centre is one of the biggest in Tallinn.
Near the port:
Lootsi Keskus, Lootsi 8.
This shopping centre houses a food store, large liquor store, and top brand clothing and shoes can be found as well.
SadaMarket, Kai 5.
This has the appearance of a market, with many small stalls and shops.
Merekeskus, Mere pst 10.
The Merekeskus is the oldest shopping centre in the area. The two-level complex houses many clothing stores and souvenir shops.
Norde Centrum, Lootsi 7.
A medium sized shopping centre with a sports apparel shop, grocery store, and more.
Food Markets
Baltijaam (Train Station) – Kopli 1.
Keskturg (Central Market) – Keldrimäe 9.
Kalaturg (Fish Market) – Kalaranna 1.
Lasnamäe Market – Punane 48a
Mustamäe Market – E. Vilde tee 75a
Nõmme Market – Turu plats 8.
Sadama Turg – Sadama 25
To learn more about this and similar topics